Lindsey Graham Channels Republican Jitters on Donald Trump's Debate Appearance
Republicans increasingly worry that Donald Trump could hijack the Fox News debate Aug. 6.
by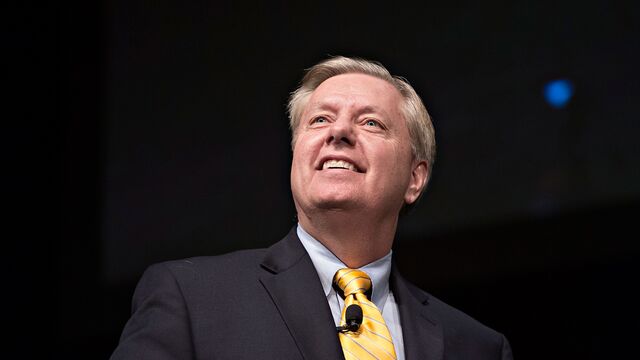 Republican presidential candidate Lindsey Graham on Thursday proposed that the Republican National Committee just say "no" to Fox News' "silly" debate criteria that only test "celebrity and name ID."
"To the RNC, you're not bound by this," Graham, a South Carolina senator, told MSNBC's Morning Joe. "You're not helpless in this endeavor. You can say no if you like."
Graham's comments were the latest indication of Republican concern that tycoon Donald Trump will dominate the party's first debate contests with headline-grabbing antics. "As things stand now," George Pataki spokesman David Catalfamo told Bloomberg, it "could be a Trump circus." Even President Barack Obama seems to have felt overshadowed by the Trump effect, lamenting on Thursday as he tried to sell reporters on his plan for renewing the Ex-Im Bank, "I know it's not as interesting as some of these other issues and Donald Trump."
Graham, who likely will not qualify for the Fox News-hosted first debate on Aug. 6 because of low poll numbers, didn't elaborate on what the RNC could do. The party made the Fox face-off one of nine officially sanctioned debates last January. Since then, the field of candidates has exploded to 16, and Fox issued rules limiting participation to the 10 with the highest national poll numbers. The network has said it will host candidates who don't make the cut on another panel earlier the same day. Trump has seized the lead in a number of polls.
The Republican National Committee did not comment on Graham's suggestion.

Read more about the wide Republican field angling for the 10 available spots in the upcoming debates.
Behind the scenes, some Republicans have been making moves to exile the real estate mogul-turned reality TV star, whom Graham called "a political car wreck" on Thursday. Donors and operatives at a recent Republican Governors Association meeting even tried to figure out how to get Trump out of the first debate, according to a report in the New York Times. 
Other Republicans have openly fretted that the Fox debate, and a second CNN debate in September, where the field will be similarly limited, could winnow the 16-candidate field based on little more than name recognition with more than a year to go before the election.
"The plan to limit the participants in these debates is ridiculous in almost every respect," a consultant for Louisiana Governor Bobby Jindal, another Republican presidential candidate who likely won't make the first debate, wrote in the Wall Street Journal. "If you have a TV show, you will easily have enough name recognition to get into the debates," Curt Anderson said in the op-ed. "Doesn't matter if you'd make a plausible president of the United States."
Anderson didn't mention any of the candidates who have had a TV show by name, but Trump has made enough television appearances to qualify for a pension from the Screen Actors Guild, his just-released personal financial disclosure form revealed.
Even one veteran of the sprawling 2012 debate stage, which many establishment Republicans considered unwieldy and damaging, weighed in. Other candidates should "assume he'll be loud and aggressive," former House Speaker Newt Gingrich, who sought the Republican nomination in 2012, told Politico on Wednesday.
Gingrich didn't give his opinion on Trump's all-but-certain presence, but did give the rest of the campaigns multiple pieces of advice on how to counter "uninhibited" mogul's TV savvy.
"Candidates ought to focus on communicating with the American people, not focusing on Donald Trump," Gingrich said.
—Steven Yaccino contributed reporting.
Before it's here, it's on the Bloomberg Terminal.
LEARN MORE