Corker Rejects Obama's Deal-or-War Argument on Iran Nuclear Pact
Nicole Gaouette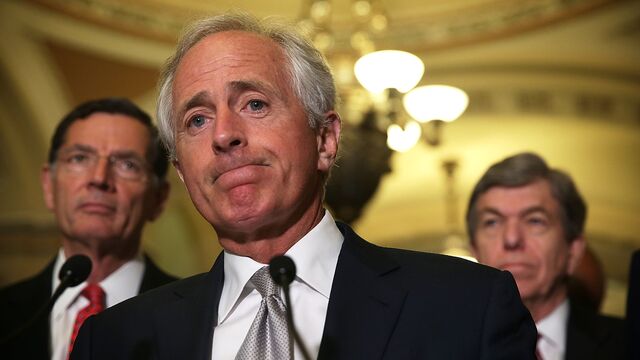 Senator Bob Corker, a key player in the congressional debate over the nuclear deal with Iran, told Secretary of State John Kerry that the Obama administration is engaging in hyperbole to sell it.
Administration officials keep saying that "it's this deal or war," Corker, the Republican chairman of the Senate Foreign Relations Committee, said as administration officials gave their first public testimony under Congress's 60-day review of the accord that the U.S. and other world powers reached with Iran last week.
Kerry dismissed critics of the deal who say that rejecting it would bring Iran back to the bargaining table under continuing pressure from economic sanctions. If Congress blocked the accord, he said, Iran would rush forward with its nuclear program and international sanctions would collapse.
"The alternative to the deal we've reached isn't what we're seeing ads for on TV," Kerry said in his prepared testimony. "It isn't a better deal, some sort of unicorn arrangement involving Iran's complete capitulation. That's a fantasy plain and simple. And our own intelligence community will tell you that."
The committee also is hearing from Energy Secretary Ernest Moniz, a nuclear physicist who helped him negotiate the accord, and Treasury Secretary Jacob J. Lew, whose department oversees economic sanctions against Iran that would be eased in return for curbs on the Islamic Republic's nuclear program.
In his prepared testimony, Lew said sanctions would be reimposed if Iran violated the accord.
"Should Iran violate its commitments once we have suspended sanctions, we have the mechanisms ready to snap them back into place," Lew said. "For U.S. sanctions, this can be done in a matter of days."
Congressional Vote
Corker helped engineer the legislation giving Congress a 60-day review, followed by an opportunity to vote on the accord. There appear to be enough votes in Congress for a resolution to reject the deal, which President Barack Obama has said he would veto.
Overriding that action would require a two-thirds majority in both chambers, a threshold that's possible to meet only if 13 Senate Democrats and 44 House Democrats vote against the president.
After the closed-door briefings that Kerry, Moniz and Lew gave on the accord Wednesday, some lawmakers said the session didn't lead to an "epiphany" while others said it was convincing.
The officials were set to meet with House Democrats later on Thursday, and all will appear before the House Foreign Affairs Committee on July 28. The House committee also held a hearing today titled "Implications of a Nuclear Agreement with Iran."
Before it's here, it's on the Bloomberg Terminal.
LEARN MORE