Checking In on Hillary Clinton and Jeb Bush With People Who Know Them Best
Former Presidents Bill Clinton and George W. Bush talk family and 2016 in a joint interview with Time.
by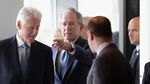 Democratic presidential candidate Hillary Clinton didn't always see a future in politics, former President Bill Clinton revealed in a Time magazine story published Thursday. At first, she wasn't even certain about a future with him.
"I asked her to marry me three times before she said yes," Clinton said. "The first time I said, 'I want you to marry me but you shouldn't do it.'" On jumping in the public arena, Hillary Clinton said, "Oh my God…I'll never run for office," her husband recalled. "I'm too aggressive, and nobody will ever vote for me." 
Bill Clinton was speaking in a joint interview with unlikely friend and former President George W. Bush. On the upcoming months of campaigning, Clinton said that he'll only give his wife advice when he's asked for it and that she does ask every once in a while.
At a time when all eyes are on the outspoken Republican candidate Donald Trump, a rival to Bush's brother, Bush said he's confident that "eventually the person who can best lead their party will be nominated."
Bush said he's preparing himself for attacks on his brother. When their father ran for office, Bush said, that was one of the hardest parts. 
"I'm sure there will be moments where somebody says something about Jeb or somebody writes something about Jeb that will sting," Bush said. "I shouldn't say I'm used to it, but the emotions I felt when our dad was criticized really got me for a while. … I think I'll feel the same thing about Jeb. It'll be interesting to see how affected I become."
Before it's here, it's on the Bloomberg Terminal.
LEARN MORE