Marco Rubio Says President Obama 'Has No Class'
And Donald Trump's rhetoric is no better, according to the Republic presidential candidate.
by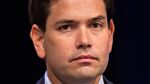 Republican presidential candidate Marco Rubio on Wednesday dismissed primary rival Donald Trump's qualifications for the White House, saying the U.S. already has a president who "has no class."
Trump's behavior over the past few weeks "is neither dignified nor worthy of the office that he seeks," the Florida senator said, appearing on Fox and Friends. "We already have a president now that has no class. We have a president now, that, you know, does selfie stick videos, that invites YouTube stars there, you know, people who eat cereal out of a bathtub. And I don't believe that some of the language that Trump is employing is worthy of the office."
The comments come as Trump continues to catch criticism for questioning Arizona Senator John McCain's war record. 
Also on Bloomberg Politics: Donald Trump Reads Out Lindsey Graham's Phone Number at a Campaign Stop
Rubio also criticized the president's appearance on the Daily Show Tuesday night, saying it was an inappropriate forum in which to talk about the Iran nuclear deal.
"There's nothing funny about any of that," Rubio said.
For his part, Trump, who appeared on Fox and Friends later on Wednesday, held back from criticizing Rubio, as well as fellow candidate Carly Fiorina, calling them both "very nice people."
Before it's here, it's on the Bloomberg Terminal.
LEARN MORE