Hewlett-Packard CEO Meg Whitman Joins Chris Christie Campaign as National Finance Co-Chair
The New Jersey governor's campaign released a list of more than 100 people who have signed on to help elect Christie president.
by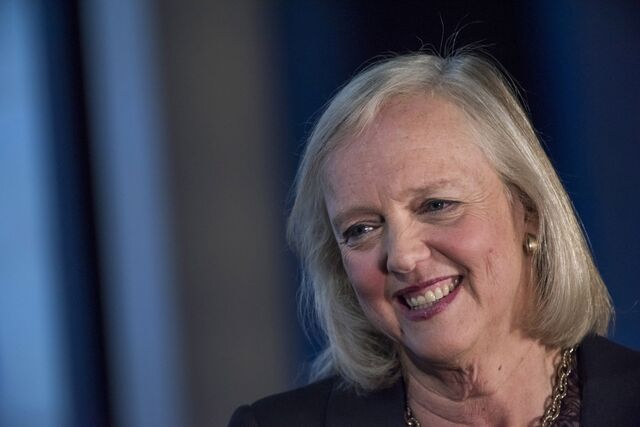 Hewlett-Packard Inc. Chief Executive Officer Meg Whitman has signed on to Chris Christie's national finance team as a co-chair, a marquee name on a roster that includes hedge fund managers and business executives. 
Whitman, 58, joins Home Depot Inc. co-founder Ken Langone, hedge fund manager Steven Cohen and Pennsylvania Congressman Pat Meehan, according to a list of the team obtained by Bloomberg News. Ray Washburne, former Republican National Committee finance chief, is Christie's campaign finance chairman.
The group also includes banking scion Nicholas Loeb and Republican money-broker Bobbie Kilberg, a former aide to Richard Nixon and Gerald Ford, as well as Texas oilman Al Hill Jr., St. Louis financier Jeffrey Fox and Massachusetts management consultant Chris Vincze. In all, more than 100 people from Florida to California are named in the list.
"We are very pumped," Mike DuHaime, a political adviser to Christie, said in an e-mail. "It is a great list of really top-notch fundraisers from all over the country."
The backing by Whitman, who unsuccessfully ran against Democrat Jerry Brown for California governor in 2010, comes a week after America Leads, the super-political action committee backing Christie, announced it has raised $11 million since February and began a $2.8 million advertising campaign in New Hampshire. 
Christie's campaign, which isn't yet required to report its full haul to the Federal Election Commission, has begun its own $500,000 ad buy in the Granite State. That campaign features clips from Christie's June 30 announcement.
"If we're going to lead we have to stop worrying about being loved and start caring about being respected again," Christie says in the 30-second spot. "I'm not looking to be the most popular guy who looks in your eyes every day and tries to figure out what you want to hear; say it and turn around and do something else."
Christie, a second term Republican in a state dominated by Democrats, spent the early part of this week in South Carolina and begins a two-day Iowa swing later in the week. He has concentrated on New Hampshire, an early voting state seen as key to his ambitions.
Before it's here, it's on the Bloomberg Terminal.
LEARN MORE