Bernie Sanders: All Workers Need At Least $15 an Hour
The Vermont senator wants to give some American workers a big raise.
by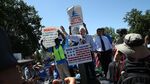 Vermont Senator Bernie Sanders on Wednesday joined federal contract workers striking for $15-per-hour pay and union rights in the Upper Senate Park near the U.S. Capitol building in Washington. 
"I think that if you work 40 hours a week, you have a right not to be living in poverty," Sanders, a Democratic presidential candidate, said at a press conference. "Today we send a very loud and clear message, to the United States Congress, to the president of the United States, and corporate America, and that is, all of our workers from coast to coast need at least 15 bucks an hour."
Following the show of solidarity with the striking workers, Sanders introduced a bill in the Senate to gradually raise the federal minimum wage to $15-per-hour by 2020. Representatives Keith Ellison and Raúl Grijalva plan to introduce a companion bill in the House.
In February 2014, President Barack Obama signed an executive order to raise the minimum wage for federal contractors to $10.10 an hour, but Wednesday's protest showed that workers believe that doesn't go far enough.
In April, federal contract workers went on strike for one day, but haven't seen any results from the president or Congress. Ahead of that strike, the Washington Post profiled Charles Gladden, a 63-year-old food worker in the Senate cafeteria who was homeless while making $11.33 an hour. Since the story was published, Gladden has received help in the form of donations, he says, but as he told the crowd at Wednesday's rally, temporary assistance isn't the same as policy change. "Workers shouldn't have to rely on charity to survive," he said.  
In response to the Gladden's story, Sanders, along with 17 other Senators, sent a letter to Obama asking him to issue an executive order mandating that the federal government give preference to model employers—companies that pay a living wage, offer health, retirement, and other benefits, and allow collective bargaining—when awarding contracts. 
Another striker, Sontia Bailey, works 70 hours a week at two jobs—one as a cashier at the U.S. Capitol building for $10.59 per hour and another at KFC, where she makes $11 an hour. Bailey told the crowd that she suffered a miscarriage and wasn't able to take time off to grieve because she needed the money to pay for a funeral.
"It is a national disgrace that millions of full-time workers are living in poverty and millions more are forced to work two or three jobs just to pay their bills," Sanders said. "The current federal minimum wage of $7.25 an hour is a starvation wage and must be raised to a living wage."
Sanders's bill comes less than a week after Democratic presidential frontrunner Hillary Clinton said she supported a higher minimum wage, but declined to explicitly back $15-per-hour. Former Maryland Governor Martin O'Malley has been in support of a $15-per-hour wage for several months. In April, Senate Democrats proposed a bill that would raise the wage to $12-per-hour by 2020.
Before it's here, it's on the Bloomberg Terminal.
LEARN MORE