Accused Charleston Shooter to Face Federal Hate Crime Charges
Justin Sink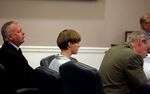 A federal grand jury has indicted the 21-year-old South Carolina man accused of killing nine people last month at a historically black church on hate crime charges, Attorney General Loretta Lynch said Wednesday.
Dylann Roof has been charged with nine counts of murder in South Carolina state court stemming from the Charleston shooting, and could face the death penalty there. Some of the 33 federal charges also are capital offenses, though Lynch said no decisions have been made on whether to seek the death penalty.
Roof was "seeking retribution against African Americans," Lynch said at a news conference in Washington. "This is exactly the kind of case for which the federal hate crimes statutes were conceived."
Prior to the June 17 shooting at the Emanuel African Methodist Episcopal Church, Roof appeared in photos waving the Confederate flag, as well as wearing a jacket with the Apartheid-era flag of South Africa. He also reportedly contacted white supremacist groups, and posted a racially charged manifesto online before the attack.
Lynch said the evidence will show that Roof selected the church and its parishioners because the killings there "would draw great notoriety for his racist views."
In the aftermath of the killing, lawmakers in South Carolina voted to remove the Confederate flag from the grounds of the state house.
Before it's here, it's on the Bloomberg Terminal.
LEARN MORE