Donald Trump Tops GOP Poll as Des Moines Register Says He Should Drop Out
As for Trump's primary rivals, Lindsey Graham says he doesn't care if he stays or goes, "just stop being a jacka--."
by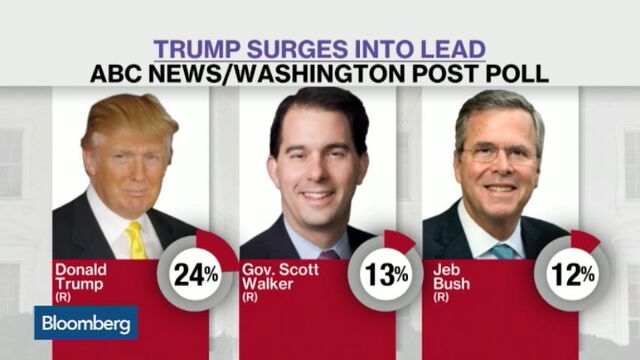 The Des Moines Register editorial board on Monday night called for Republican presidential candidate Donald Trump to drop out of the race, saying the real estate mogul and reality star disqualified himself by questioning Senator John McCain's war record.
Trump on Saturday said McCain, who was a prisoner of war in Vietnam for more than five years, is considered a war hero only because he was captured. Amid backlash from Republicans and Democrats alike, Trump walked the comments back, saying that McCain is a hero but hasn't done enough for veterans.
"His comments were not merely offensive, they were disgraceful," wrote the newspaper, whose home state of Iowa will begin the presidential nomination balloting early next year. "So much so, in fact, that they threaten to derail not just his campaign, but the manner in which we choose our nominees for president. By using his considerable wealth, his celebrity status, and his mouth to draw attention to himself, rather than to raise awareness of the issues facing America, he has coarsened our political dialogue and cheapened the electoral process.
"He has become 'the distraction with traction'—a feckless blowhard who can generate headlines, name recognition and polling numbers not by provoking thought, but by provoking outrage."
First place
The editorial came as Trump ranked at the top of a national Washington Post/ABC News poll released Monday night with 24 percent. In second place was former Florida Governor Jeb Bush, who got 13 percent. The Post noted that most of the survey was completed before Trump made the comments and that support for him dropped off considerably on the one night of polling after Saturday. 
"Although the sample size for the final day was small, the decline was statistically significant," the Post reported. "Still, it is difficult to predict what could happen to Trump's support in the coming days and weeks as the controversy plays out."
In a statement responding to the Register (which partners with Bloomberg Politics on Iowa polling), Trump complained about the newspaper's general coverage of him, called the editorial "sophomoric," and said the Washington Post/ABC figures "were just too much for them to bear."
("We refute any statements by Mr. Trump that our reporting has been inaccurate or dishonest," Amalie Nash, Register executive editor and vice president for news and engagement, said in a statement later, adding that his campaign had only contacted the newspaper with coverage concerns once and that the editorial would "have no bearing on our news coverage.")
'I don't care if he drops out'
South Carolina Senator Lindsey Graham, a close friend of McCain's who is seeking the Republican presidential nomination alongside Trump, said Tuesday he didn't mind if Trump stayed in race as long as his behavior improves. 
"I don't care if he drops out," Graham said on CBS. "Stay in the race, just stop being a jacka--."
Graham spoke ahead of a scheduled appearance by Trump on Tuesday in Graham's home state, which holds the south's first primary election. The senator said people there would be put off by the McCain comment.
"The motto of our state is smiling faces and beautiful places—I don't think he quite fits that motto," Graham said.
Democratic strategy
Top Democrats have denounced Trump while seizing on the opportunity to link him to the rest of the Republican field on an issue that previously triggered backlash for Trump: immigration.
Republicans were "falling all over themselves to criticize" Trump over his comments about McCain, yet they were silent when Trump "slandered millions" with his comments on immigrants, Senate Minority Leader Harry Reid says in opening floor comments in Washington on Tuesday.
"There's an ugly truth behind that silence, and it's this: When it comes to immigration policy, and frankly most other policy, there's no meaningful difference between the Republican Party and Donald Trump," Reid said.
Many GOP candidates did distance themselves from Trump's statement that Mexican immigrants were "rapists," though not all did. Firebrand freshman Senator Ted Cruz of Texas said he saluted Trump for focusing on illegal immigration, even if he "has a colorful way of speaking. It's not the way I speak."
Without mentioning the McCain feud specifically, Democratic presidential front-runner Hillary Clinton also sought to tie Trump to his Republican rivals during a Facebook question-and-answer session on Monday.
"Donald Trump in particular is getting a lot of attention for some hateful rhetoric, but Jeb Bush and Marco Rubio actually agree with him on denying a pathway to citizenship and consigning hardworking immigrants to second class status," she wrote.
—Toluse Olorunnipa, Catherine Dodge, Ben Brody, and Sahil Kapur contributed to this report. 
Before it's here, it's on the Bloomberg Terminal.
LEARN MORE