Daily Show, Twitter Part of Unconventional Battle Over Iran Deal
Angela Greiling Keane and Justin Sink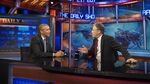 The debate over the Iran nuclear deal is being waged on some unconventional battlegrounds.
President Barack Obama and his opponents are stepping beyond traditional speeches and policy statements as U.S. lawmakers weigh whether to approve an accord that the administration says will cut off Iran's path to a nuclear bomb and critics say amounts to appeasement of a dangerous adversary.
Comedy Central and Twitter are their tools.
Opening a campaign to sell the agreement to a skeptical Congress and to the U.S. voting public, the Obama administration on Tuesday opened a Twitter account, @TheIranDeal.
The first tweet, linking to a White House web page with details of the accord with Iran, was retweeted 819 times in the first six hours after it was posted and the account had almost 8,000 followers.
That inspired a counter Twitter handle @TheIranBomb, which had only 41 followers, to distribute criticism and retweet opponents of the Iran deal. As Obama gave a speech defending the deal to a veterans' group on Tuesday, Israeli Prime Minister Benjamin Netanyahu's official account put out a steady stream of criticism.
Obama also made a pitch to a steady base of support: young voters. After speaking to a Veterans of Foreign Wars convention in Pittsburgh, he flew to New York to tape an appearance on "The Daily Show."
Obama urged young people -- the primary audience for the Comedy Central program -- to learn about the deal and then contact lawmakers, saying it's an important "issue of war and peace."
"If they're not hearing from citizens, then we end up making bad choices," he told "Daily Show" host Jon Stewart, who is leaving the show next month after 17 years.
A Pew Research Center survey released Tuesday found of the 79 percent of Americans who had heard of the Iran deal, 38 percent approve of it and 48 percent disapprove. Another 14 percent had no opinion.
Before it's here, it's on the Bloomberg Terminal.
LEARN MORE