Blue-Collar Conservative John Kasich Takes Aim at the White House
Ohio's sometimes-quirky governor makes a fashionably late entry into the Republican presidential race.
by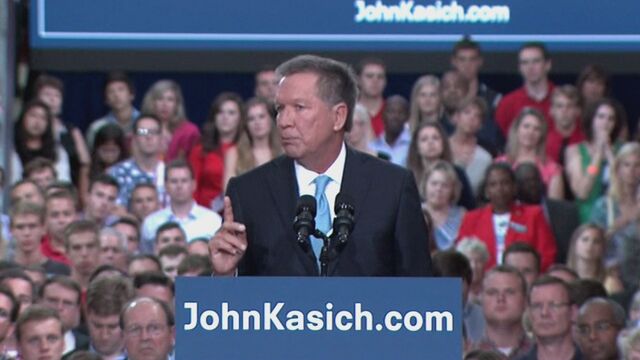 Ohio Governor John Kasich, seeking to emerge from a crowded Republican presidential field as a practical and compassionate leader from a must-win swing state, announced Tuesday that he's running in 2016 in a speech that touched on the struggles of the poor, the ill and the disenfranchised.
Kasich, 63, joins 15 other prominent Republicans who have declared their candidacies for the nomination. He launched his bid in Columbus at the student union at Ohio State University, his alma mater.
Kasich, who also ran briefly for president in 1999, has positioned himself as a "change agent" with executive, legislative, and business experience who can get results at a time when people are doubting the American dream.
"If we were not born to serve others, what were we born to do?" he said. "I believe I do have the skills, and I have the experience, I have the experience and the testing, the testing which shapes you and prepares you for the most important job in the world."
Now in his second term as governor, Kasich earlier spent nine terms in Congress, ending in 2001, where he served on both the Armed Services and Budget committees. Between his stints in public office, he also worked in investment banking at Lehman Brothers Holdings Inc. and as a Fox News host.
As he enters the crowded Republican presidential field, Kasich seeks to differentiate himself as a conservative who sees a responsibility for government to help those "in the shadows." As governor, Kasich has overseen two budgets that cut income taxes and other levies almost $5 billion and increased the state's Rainy-Day Fund to $2 billion from 89 cents. He has overcome opposition from his own party to expand Medicaid under President Barack Obama's health-care overhaul to help the drug-addicted, mentally ill, and others in need.
In his announcement speech, he drew special attention to the struggles of black Americans, recounting the pain of the Civil War and the civil rights movement.
"They put the dogs and the gas and the batons on people of another color," he said. 
He recounted how on Saturday he met "two wonderful African-American fellows" at a Wendy's fast-food restaurant.
"They said, `You better run,'" Kasich said. "Do you know what that meant to me?"
Kasich promised to expand the military and the economy, saying "big ideas can change the world" and that he has the ability to unite a divided country.
"We are going to take the lessons of the heartland, and straighten out Washington D.C. and fix our country," he said.
Kasich spoke in front of a large video screen showing photos of him and signs that said, "Kasich for Us." Organizers said about 4,500 reserved tickets, and they gathered on three levels inside the student union to watch, chanting, "Run, John, run." About 100 people gathered across the street to protest Kasich's stance against abortion and other issues.
While Kasich starts at the bottom of most polls, averaging 1.5 percent in a compilation by RealClearPolitics, he sees potential for an opening in a field in which, he says, no candidate is dominant.
John Weaver, Kasich's chief strategist, said the candidate isn't getting in the race too late, because there's no clear front-runner for the first time since 1940.
"If somebody was dominating the race right now, we might not even be running," Weaver said in an interview before the announcement.
While Kasich wants to be on stage in Cleveland for the first Republican debate on Aug. 6, for which the top 10 candidates in an average of five national polls will participate, his focus is on the early primary and caucus states, Weaver said.
The governor has traveled to the early-voting states this year with an emphasis on New Hampshire. His first events following his announcement are in the Granite State, underscoring its significance for his campaign.
Television ads backing Kasich have already started airing in New Hampshire, underwritten by outside groups backing the Ohio governor's presidential bid.
Two so-called 527 committees supporting him with similar names, New Day for America and New Day Independent Media Committee, will report having raised more than $11.5 million in about two months, one of the groups has said.
Among the major contributors: Philip Geier, former chairman and chief executive officer of the Interpublic Group of Cos. and a director for one of the 527 groups.
Kasich raised $39.7 million for his races for governor, according to Ohio Secretary of State records. He has collected almost $1.8 million from lawyers and lobbyists, $1.3 million from the securities and investment industries, and $1.28 million from manufacturers and distributors, according to the National Institute on Money in State Politics.
Political Pragmatist
Kasich, who often says "the Republican Party is my vehicle, not my master," says he will take a problem-solving approach to Washington politics.
The governor cites immigration as an example, saying that while he doesn't favor a path to citizenship for those in the U.S. illegally, he won't "take it off the table," because it may be needed as part of a compromise to get a bill passed.
"You can't solve major problems just by dictating," Kasich said during a speech July 8 in South Carolina. "You can stand and you can fight, and every once in a while, you can shove something through. But that is not the way you run things in America."
Kasich supporters describe him as a straight shooter. Detractors point to what they say is a quirky, sometimes intemperate demeanor. 
His state's economic record is not as strong as the governor portrays it, David Pepper, the state's Democratic Party chairman, said in a conference call with reporters on the eve of Kasich's announcement. While Ohio's 5.2 percent unemployment rate in June was lower than the national average of 5.3 percent, according to the Ohio Bureau of Labor Market Information, Pepper cited a recent report that shows Ohio is not adding jobs as quickly as the rest of the nation. Moreover, Ohio Democrats say Kasich has balanced state budgets with cuts to local governments and schools, while cutting taxes that benefited the wealthy.
"After seeing firsthand how John Kasich has led Ohio over the last five years, it is unbelievable that he thinks he should be president of the United States," U.S. Representative Tim Ryan, a Democrat from the Youngstown area, said in a statement. 
"It is not nearly as rosy as the 'Ohio Model' that he seems to have coined a term for and bragged about all over the country," Pepper said.
Kasich is a native of the blue-collar, ethnic steel town of McKees Rocks outside Pittsburgh, where his father was a mailman. He likes to say he never met any Republicans until he went to Ohio State.
He began his political career in 1979 as a 26-year-old state senator and was elected to Congress in 1982.
Budget Hawk
As chairman of the House of Representatives Budget Committee, he oversaw the last balanced federal spending plan. He also pushed for changes in military procurement, including limiting production of the B-2 bomber.
After his failed presidential run in 1999, Kasich became a managing director of Lehman Brothers until the firm collapsed in 2008. He also hosted From the Heartland with John Kasich on Fox television from 2001 to 2007, appeared on The O'Reilly Factor, gave speeches, and wrote three books.
The governor's approval has risen as the state's economy rebounded, reaching a near-record high of 60 percent in a June 22 Quinnipiac poll. He won re-election in 2014 with 64 percent of the vote against a weak Democratic opponent.
Ohio ranks 12th among states in economic health from the fourth quarter of 2010 through the same period last year, according to the Bloomberg Economic Evaluation of States.
No Republican has reached the White House without carrying Ohio, and Kasich has said the Buckeye State's politics and demographics make it a microcosm of the U.S.
"If you can do it in Ohio, you can do it anywhere," Kasich said during a speech in Iowa last month.
Before it's here, it's on the Bloomberg Terminal.
LEARN MORE