Obama Pledges to Ramp Up Support for Nigeria's Boko Haram Fight
Toluse Olorunnipa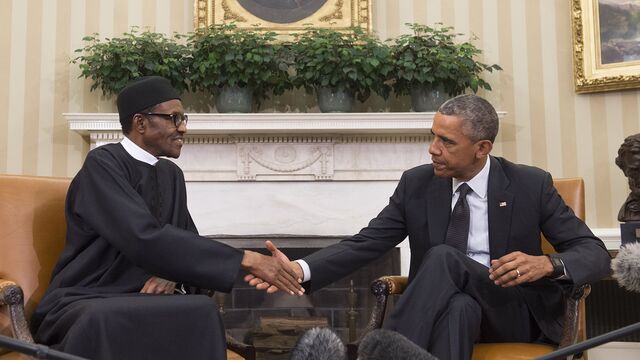 President Barack Obama promised Nigerian President Muhammadu Buhari U.S. support as Africa's most populous nation battles violent extremism and the government works to root out corruption.
Obama met with the Buhari, who took office in May, at the White House on Monday just days before the U.S. leader leaves for a trip Kenya and Ethiopia.
Nigeria, which has the biggest economy in Africa, "is, obviously, one of the most important countries in the world," Obama said at the start of their meeting. Buhari has "a very clear agenda" to both contain the spread of militants and keep the Nigerian economy growing.
"We're looking forward to hearing more about his plans and about how the United States can partner with Nigeria," Obama said. 'We very much look forward to talking about security issues, how we can cooperate on counterterrorism.''
Buhari said Nigeria is "ever grateful" for U.S. support for the political process in his nation.
Buhari's visit to the White House comes as the terrorist group Boko Haram has intensified attacks in Nigeria, killing hundreds of civilians in recent weeks. The Obama administration saw the election of Buhari, who took office in May after a peaceful transfer of power, as a chance to mend relations with Nigeria and fight terrorism in Africa.
Terrorism Fight
Buhari, a former military dictator who purged the Nigerian military's top commanders earlier this month, said Nigeria welcomes U.S. advice and cooperation in rolling back Boko Haram.
His administration also wants support for Nigeria's ailing economy, as Africa's largest oil exporter suffers from a decline in crude prices, a surge in piracy and competition from U.S. shale production.
Obama plans to travel to Kenya and Ethiopia later this week to discuss economic development and the security threat from Somalia-based militants.
Grant Harris, senior director for Africa for the National Security Council, said inviting Buhari to the U.S. was a better option than a presidential trip to Nigeria, because it will allow the Nigerian president's fledgling administration to meet with several top American officials.
Vice President Joe Biden, Secretary of State John Kerry and National Security Adviser Susan Rice also were at Obama's meeting with Buhari on Monday. During his four-day visit, Buhari will meet with Joint Chiefs of Staff Chairman Martin Dempsey, Attorney General Loretta Lynch, Treasury Secretary Jacob J. Lew and U.S. Trade Representative Michael Froman.
Buhari defeated former Nigerian president Goodluck Jonathan in an election in March on a pledge to combat terrorism.
That task has become more difficult as declining oil prices restricts revenue for Africa's largest oil exporter. Buhari also has to root out corruption within the military, said Princeton Lyman, a senior adviser at the United States Institute of Peace and a former U.S. ambassador to Nigeria.
Before it's here, it's on the Bloomberg Terminal.
LEARN MORE