In a Swipe at Rivals, Jeb Bush Proposes to Dock Pay for Absentee Lawmakers
Conveniently, the most vulnerable target is Bush's home state presidential rival Marco Rubio.
by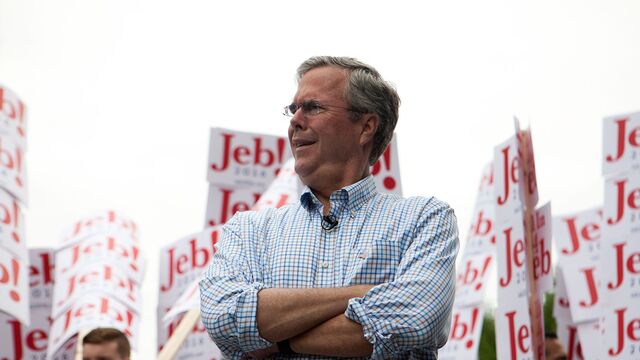 Jeb Bush proposal Monday "to dock pay of absentee members" of Congress amounted to a crafty swipe at his Republican presidential rivals, most notably his "good friend," Senator Marco Rubio.
"Consider a pattern in Congress of members who sometimes seem to regard attendance and voting as optional, something to do as time permits," the former Florida governor said during a speech in Tallahassee taking aim at institutional Washington. "And if it's an incentive they need, how about the one that pretty much every worker in America has in their job? If you don't show up, you don't get paid for the time that you miss."
Not-so-coincidentally, some of the biggest truants in the current Congress include several of Bush's presidential rivals, whose White House bids have caused them to miss many votes this year. Topping it is none other than Bush's home-state ally turned rival: Rubio has recently faced criticism for being the most absentee member of the Senate. So far in the 114th Congress, the first-term Floridian has missed 72 out of 249 votes, an absentee rate of 29 percent, according to data compiled by Bloomberg Government.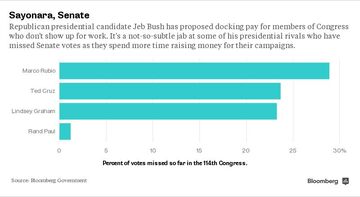 Others aren't much better: Texas Senator Ted Cruz has missed 24 percent of votes so far this year; South Carolina Senator Lindsey Graham has missed 23 percent of votes. Of the Senate presidential hopefuls, Kentucky Senator Rand Paul, stands out for having made 99.9 percent of the Senate roll call votes this year. He missed just three this year. 
Balancing the demands of a presidential campaign with the Senate's often unpredictable schedule sometimes gets awkward: In April, Cruz gave an impassioned speech urging senators to reject the nomination of Loretta Lynch for U.S. attorney general, whom he warned had "embraced the lawlessness" of the Obama administration. By the time the Senate held a final vote on the nomination, he had skipped town, apparently for a fundraiser in Texas.
It's a convenient swipe for Bush, who hasn't held elected office since 2007 and, given his disclosed earnings, doesn't need a full-time job as he runs for president. While roll call votes provide an easy metric to measure lawmakers' performance, other officeholders, such as governors, aren't as vulnerable. But Bush's proposal also highlights a real problem: Members of Congress can skip votes whenever they want, without having to explain why, and the only accountability they face is reelection. For senators, that's just once every six years. 
This year's crop of senators running for president aren't the first to rack up jarring absentee rates as they barnstorm the country courting votes and raising money. During the 2008 election cycle, Republican nominee John McCain missed 64 percent of votes; Democratic nominee Barack Obama missed 46 percent, according to GovTrack.us.
For now, Paul isn't the only one bucking the trend: Vermont Senator Bernie Sanders, who's running for the Democratic presidential nomination, has missed just six votes this year, marking an attendance rate of 99.8 percent.
'Constitutional questions'
Though Bush's proposal could win him points with good-government advocates, members of Congress are about as likely to pass a bill cutting their own pay as they are to dance naked en masse in Statuary Hall. And there is another hurdle: the 27th Amendment to the Constitution. "No law, varying the compensation for the services of the Senators and Representatives, shall take effect, until an election of Representatives shall have intervened," it states.
That means there's no way lawmakers can be prevented from receiving full pay during a given Congress. The last clause of the amendment, however, may leave room to enact a law tying pay to attendance, as long as it takes effect after the following election.
"Bush's play-to-pay law raises some important constitutional questions," said Adam Winkler, a constitutional law professor at UC Irvine School of Law. He said Article I, Section 6 gives Congress authority to establish compensation for members, although there are "questions of timing" due to the 27th Amendment. "No law changing the terms of compensation can go into immediate effect, but it could be delayed."
Asked about the constitutional barrier, a Bush campaign spokesperson said Congress seems to have the power to link pay to attendance, pointing to a passage in Article I, Section 5 of the Constitution that authorizes Congress to "compel the attendance of absent members" and "under such penalties as each House may provide."
(Contributing: Greg Giroux and Michael C. Bender )
Before it's here, it's on the Bloomberg Terminal.
LEARN MORE