Hillary Clinton Previews Plans to Get Tough on Wall Street, Raise Capital Gains Taxes
The Democratic front-runner also wants to increase incentives for corporate whistleblowers.
by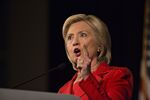 Hillary Clinton previewed her ideas Monday for punishing financial misconduct by Wall Street firms and other corporations, and for incentivizing long-term corporate decision-making over "quarterly capitalism," including an overhaul of capital gains taxation.
Following up on a broader economic- and financial-policy speech delivered last week in New York, the Democratic presidential front-runner has plans to unveil proposals later this week aimed at boosting corporate responsibility and accountability, and began the rollout of those ideas during a question-and-answer session on Facebook.
On the eve of Tuesday's fifth anniversary of the Dodd-Frank Wall Street Reform and Consumer Protection Act, Clinton again vowed to protect and expand upon the law to "enhance accountability," including by boosting the financial rewards for whistleblowers and by creating a mechanism to cut into executives' compensation when their companies are fined for running afoul of financial regulations.
Clinton said she wants to "make sure that good people have real incentives to come forward and report illegal activity by raising the whistleblower caps so they're actually effective." The Financial Institutions Reform, Recovery, and Enforcement Act caps rewards at $1.6 million, which may not be a sufficient incentive for someone to risk a high-paying job on Wall Street, and Clinton—like former Attorney General Eric Holder—wants to see the amount increased.
Clinton will also propose policies aimed at making "sure that when corporations pay fines to the government for wrongdoing, those fines cut into the bonuses of the executives who should have been accountable or should have caught the problem. Give people a reason to improve the culture of their firms." A campaign official said Clinton is still formulating the details of this proposal and will put them forward in the weeks ahead.
This week, Clinton will unveil a proposal to tax capital gains using a sliding rate scale based on the length of an investment, something at which she hinted during last week's speech.
Her aim is "to promote long term investment that will strengthen companies, workers, and communities," she wrote on Facebook, responding to a reporter's question about the apparent shift from her position in 2008.
During her first presidential campaign, Clinton she said she would keep the capital gains rate below 20 percent, much lower than her new proposal. "Both business leaders and labor leaders have been speaking out about this in recent years," she said. "The increase in short-termism has grown in urgency since 2008, and the urgency of our solutions has to match it."
Before it's here, it's on the Bloomberg Terminal.
LEARN MORE