What Democratic Candidates Keep Getting Wrong About 'Black Lives Matter'
Both Martin O'Malley and Hillary Clinton have been criticized for adding on to the civil rights message.
by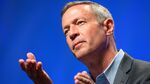 Democratic presidential candidate Martin O'Malley must have been caught off guard on Saturday when he was interrupted by protesters at the liberal Netroots Nation convention in Phoenix.
According to reports, when the former Maryland governor was speaking about immigration with journalist Jose Antonio Vargas, several dozen protesters suddenly filed into the room, called out the names of black women who have recently died in police custody, and chanted "Black Lives Matter." Had O'Malley learned from Democratic front-runner Hillary Clinton's mistakes, he might have been able to avoid the situation he got himself into next. 
O'Malley responded to the protesters by echoing that phrase, "Black lives matter." If he had stopped there, the remainder of the event may have gone off without a hitch. Instead he added, "White lives matter," inciting angry shouts from the protesters. "All lives matter," he finished, to a chorus of boos. 
O'Malley later apologized for his additions in an interview with the website This Week in Blackness, CNN reported. 
"That was a mistake on my part and I meant no disrespect," O'Malley said. "I did not mean to be insensitive in any way or communicate that I did not understand the tremendous passion, commitment, and feeling and depth of feeling that all of us should be attaching to this issue."
In June, Clinton found herself in a similar situation, using the "all lives matter" line during an appearance at a black church located in the next town over from Ferguson, Missouri, where about a year ago, the unarmed teenager Michael Brown was shot and killed after an altercation with a white police officer. Clinton was talking about her mother, saying that after having been abandoned by her own parents, she survived through "kindness along the way from someone who believed she mattered. All lives matter." Said in another place, and not a black church near Ferguson, the comment may have gone unnoticed, but some saw it as an affront to movement that took root there about a year ago. 
Clinton's use of the phrase was not met with as much vitriol in the moment, but later generated a social media uproar, the New York Times reported.  
In both cases, it seems, the candidates failed to recognize that the phrase "all lives matter" has been widely used on social media in the past year to undermine the idea that black lives are acutely threatened by what many people see as racist policing practices and the resulting mistrust between black communities and law enforcement. "All lives matter" was also used as just an alternative to the phrase "black lives matter." Many activists found it problematic in that context too, because only some lives, they argue, are treated as less important. Judith Butler, a professor at the University of California, Berkeley, described that disconnect in the New York Times in January, saying, "If we jump too quickly to the universal formulation, 'all lives matter,' then we miss the fact that black people have not yet been included in the idea of 'all lives.'"
Butler also said that "all lives matter" reflects a "race-blind approach" to the issue. In other words, many of the same people who say "all lives matter" might mean well, but they overlap with the same well-meaning people who claim "not to see race," the way Hannah Horvath does in an episode of HBO's Girls. It's seen now as an outdated, unrealistic and ineffective means of talking about race, and it's left some people struggling to catch up. 
Neither utterance of "all lives matter" from either candidate reflected malice, or even indifference, but the word choice, and the resulting backlash, documents a real-time account of Democratic candidates learning to navigate the changing landscape of how race relations are discussed. 
For his part, Vermont Senator Bernie Sanders, another Democratic presidential candidate, tweeted in support of the protesters on Sunday, naming, among others, Sandra Bland, who died in police custody in Texas earlier this month after being detained in a traffic stop. 
Before it's here, it's on the Bloomberg Terminal.
LEARN MORE