Who's Afraid of Donald Trump?
The real estate mogul's attack on John McCain's military record unleashes a torrent of condemnation and calls for Trump to drop out of the race.
by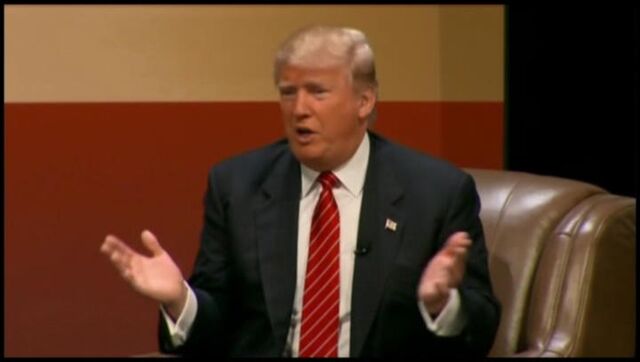 After weeks in which his fellow Republican presidential candidates tried to ignore, hedged about, and, in some cases, even embraced Donald Trump, the outspoken real estate mogul with the skyrocketing poll ratings may finally have given his rivals an opening.
A heretofore quiescent to acquiescent Republican field opened fire Saturday following the real estate mogul's sarcastic disparagement of Arizona Senator John McCain's military record. Speaking before the Iowa Family Leadership Summit, a gathering of evangelical conservatives, Trump suggested that McCain, a Navy pilot who was tortured and imprisoned for more than five years after his plane was shot down over North Vietnam in 1967, only earned war hero status "because he was captured." 
With one notable exception, Trump's fellow candidates and the Republican National Committee quickly moved to isolate him for his attacks on McCain, the party's 2008 presidential nominee. Senator Ted Cruz avoided criticizing Trump in an interview with Bloomberg Politics. Other Republicans were not so punctilious.
"His comments have reached a new low in American politics," said former Texas Governor Rick Perry in a statement calling for Trump to "apologize immediately." 
"His attacks on veterans make him unfit to be Commander-in-Chief of the U.S. Armed Forces, and he should immediately withdraw from the race for president," added Perry, a former Air Force captain. 
Related:
The Republican National Committee, which has privately urged Trump to tone down his rhetoric, sounded a similar note.
"Senator McCain is an American hero because he served his country and sacrificed more than most can imagine," chief strategist Sean Spicer said in a press release. "There is no place in our party or our country for comments that disparage those who have served honorably."
Mitt Romney, the 2012 Republican presidential nominee, managed to flash a sense of humor along with a well placed barb.
The other Republican presidential candidate who has served in the military, South Carolina Senator Lindsey Graham, a close friend of McCain's, also took to social media to say Trump shouldn't represent the party.
Graham, who recently retired as an Air Force Reserve colonel, also tweeted that Trump, whom he has slammed for putting the Republican party "in a hole with Hispanics" with his comments on immigrants, "should not be #GOP standard bearer."
Trump has appeared at the top of at least two national polls in recent days, a rise that has particularly bedeviled the No. 2 in the polls, former Florida Governor Jeb Bush, who also took to Twitter to condemn Trump.
Louisiana Governor Bobby Jindal, who has polled relatively low in the pack, was likewise quick to get in on the conversation.
Not everyone pounced on Trump.
"An awful lot of Republicans are right now running out of their way to smack Donald Trump," Texas Senator Ted Cruz told Bloomberg Politics' Mark Halperin in an exclusive interview. "I'm not going to join that stampede."
Cruz, who recently met with Trump, also described McCain as "a friend" and "an extraordinary American hero" but said he wouldn't "take a stick to fellow Republicans or for that matter to Democrats."
Retired neurosurgeon Ben Carson, who took the stage right after Trump, also demurred, according to Politico.
Among non-politicians reacting: McCain's daughter Meghan McCain, who told her 247,000 Twitter followers: 
Before it's here, it's on the Bloomberg Terminal.
LEARN MORE