Walker Expectations High as He Tours Iowa This Weekend
The Republican presidential candidate from Wisconsin is portraying himself as a native son in state that will cast the first ballots of 2016.
by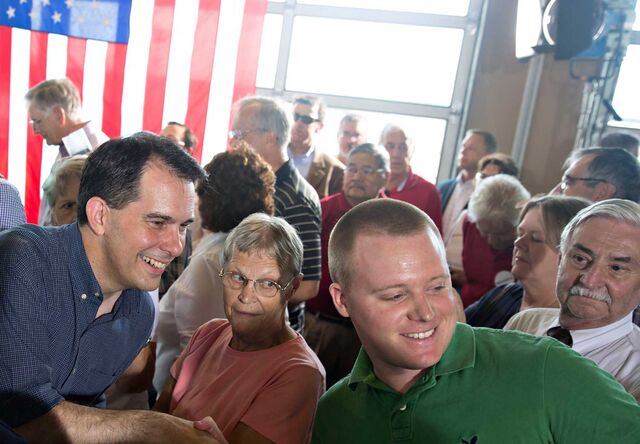 Near a mighty river that shares its banks with his neighboring state, Wisconsin Governor Scott Walker launched his first Iowa campaign swing as a declared presidential candidate with a Winnebago and high expectations for his performance there.
No state is more critical to Walker's future than Iowa, where strong early polling has built expectations to the point that anything short of a win in the state's lead-off Feb. 1 caucuses could be viewed as a loss.
Underscoring its importance, the Republican from the other bank of the Mississippi River is spending three days in the state -- triple that of any other he visited during his campaign rollout week. On Sunday, he plans to visit his boyhood community of Plainfield, Iowa, a not-so-subtle reminder to the state's Republicans that he considers himself one of them.
During a speech to about 200 people at a minor league baseball stadium in Mississippi River town of Davenport, Walker showed he's learned some Iowa political slang, while also demonstrating he has more to learn.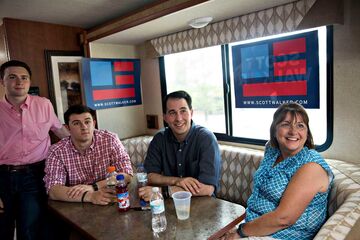 "We're going to do the Full Grassley," he said in a nod to his commitment to visit all of the state's counties, something U.S. Senator Chuck Grassley typically does every year.
"We're going to visit all 99 counties in this state between now and the caucus next year," Walker added, using the singular instead of the plural caucuses that locals typically use in describing the individual meetings in more than 1,700 precincts.
Walker also retold an anecdote he first used in mid-May that now provides him a first-class political pander to Iowans. It's about how the Plainfield city hall lacked an Iowa flag when he was growing up in the mid 1970s, prompting him and his brother to raise money for one. Walker's mother kept the original flag and a photo of her boys with it.
"Aren't moms great?" Walker asked the audience.
Walker said his brother, David, plans to join him for part of the Iowa tour. Also along for the ride, as they have been since his Monday announcement in Wisconsin, are his wife, Tonette, and sons, Matt and Alex.
Asked if he has any concerns about expectations being too high for him in Iowa, Walker brought up his experience as a high-school track runner.
"My coach used to say it's a lot easier to win if you're ahead," he said. "In the end, we know there's a lot of time, a lot can happen between now and then. We're just going to stay focused, day by day, week by week, getting our message out."
Walker said he hopes to "at least to be first, second or third" in all the early states.
A Bloomberg Politics/Des Moines Register Iowa Poll in May showed Walker backed by 17 percent of likely Republican caucus participants, well ahead all others in the field.
Beyond Iowa, Walker is also starting to build a plan for a Republican primary that goes past February and the initial contests in Iowa, New Hampshire and South Carolina. On Wednesday, he visited Georgia, a state that will host a March 1 primary. Plans are also in the works for visits to Tennessee and other states that hold contests on that date.
Before it's here, it's on the Bloomberg Terminal.
LEARN MORE