The Next Phase of Hillary Clinton's Presidential Campaign Has Begun
The Democratic front-runner opened up her campaign to questions from the audience and the press on Thursday.
by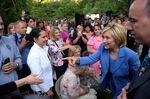 The relaunch of Hillary Clinton's presidential campaign wasn't on Roosevelt Island in June, or when she sat down for her first nationally televised interview last week.
It happened on Thursday in New Hampshire, in the auditorium of a municipal building and the backyard of an old house, as she threw what others might call caution—and her advisers have insisted was intentional planning—to the wind.
 After months of limited questioning from screened panelists or a handful of reporters on a pre-written list, she just started calling on people.
 She called on 36 people in all over the course of the day, including nine members of the media.
In a steamy, cavernous room at the Dover Municipal Building, she spent close to 70 minutes answering questions. Though she began with a short version of her stump speech and tacked on a proposal to offer tax credits to companies that share profits with their employees that her campaign announced Thursday, she let the conversation go where the voters in the room wanted it to go, which didn't include profit sharing.
Instead, she fielded questions on the Iran deal, climate change, student debt, the criminal justice system and federally funded space exploration. It might be a typical range for Bernie Sanders or Jeb Bush or Marco Rubio but for Clinton, who spent the beginning of her campaign staying self-consciously on message, it was something new and marked the dawn of a new more open phase of her 2016 White House bid.
Asked about banning the extraction of fossil fuels from public lands by a young woman who demanded a yes-or-no answer, Clinton struck her own course."The answer is no until we get alternatives into place," she said, acknowledging that her response might not satisfy the questioner but was the only realistic way for her to respond.
Later, Clinton called on another young woman, who posed the same question. "I'm going to be honest, I was disappointed by the answer that you gave before about climate change," the woman said, adding that she wondered if Clinton's unwillingness to act was influenced by her campaign donors from the fossil fuel industry. "No. No it is not," Clinton said, offering up a similar response to her first one until the woman, a few dozen yards away from Clinton, shouted "act on climate" and a handful of others, including the first woman, joined in. Two men unfurled a banner reading "ban extraction on public lands."
"You know what, I have said in this campaign I am going to tell you what I believe. Some people may like it and some people may not like it," Clinton said. "I totally respect the passion and urgency," she added, and "I would urge you to run for office and have your voices heard."
Others had more personal—and unexpected—concerns.
One woman launched into an extended plea for help stopping the flood of telemarketer calls to her without changing her number and Clinton took it in stride.
"I have to tell you that's the first time I've been asked that. And I don't know the answer but I will try to find out if there is an answer," she said, before promising that a campaign staffer would reach out to the woman and try to help.
Aides say this is where they had planned to be at this point in the campaign, past the initial listening-heavy phase of the campaign and onto the next step, sharing her views while still engaged in a back-and-forth with voters.
Still, there was a clear shift even from early last week, when Clinton took questions from several audience members at the Iowa City Public Library. In all, she took 16 questions at the Dover event, the first that her campaign's billed as a town hall.
Later, after working her way through the crowd and posing for a long line of photos, Clinton spoke to the press. Traveling press secretary Nick Merrill was the traffic cop, calling on reporters as some tried to shout over others, but unlike at other recent press availabilities, he wasn't calling on people based on a pre-written list of names. cut off the back-and-forth while some reporters were still clamoring for their own shot at her. But Merrill and Clinton did cut off the back-and-forth while some reporters were still clamoring for their own shot at her.
Just before sunset, an organizing house party held in the buggy backyard of an old home in Windham, Clinton spent more than half an hour calling on people in the crowd, touching on many of the same issues as she had earlier in the day.
After finishing her response to the tenth questioner and with it clear that she was running out of time, she struggled for a moment before passing along the responsibility of calling on the final questioner to someone else, her Midwestern-polite roots showing through.
Earlier in the day, though, she'd shown that she could be more casual.
"How do I address you? As ambassador or secretary or just Hillary?" one man asked her in Dover.
"Hillary is fine with me," she said.
Before it's here, it's on the Bloomberg Terminal.
LEARN MORE