The C-Suite Is Clinton Country
The Democratic front-runner received donations from more than 1,300 top-level business people, FEC filings showed.
by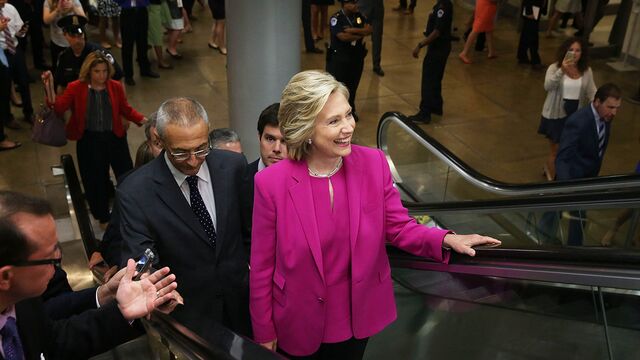 The race to become the chief executive officer of the U.S. is going straight through the boardroom of hundreds of companies across the country as candidates jockey for C-Suite donations.
Democrat Hillary Clinton had the most success in the last quarter, logging donations from more than 1,300 people who identified themselves as CEOs, chief financial officers, chairmen or vice chairmen, according to filings with the Federal Election Commission. The contributions added $2.48 million to her campaign, about 5 percent of the total, excluding super PAC money. 
Republican Jeb Bush had less success among the bosses, but still convinced at least 500 of them to donate a total of $1.2 million, according to his filing Wednesday. That amounted to more than 10 percent of all his campaign fundraising, excluding the $103 million raised by his super PAC.
What qualifies as CEO runs the gamut from Richard Fain, CEO of Royal Caribbean Cruises, who plucked down $2,700 for Bush, to Marina Park, CEO of Girl Scouts of Northern California, who gave $1,000 to Clinton. Then there are those such as Elon Musk, CEO of Tesla Motors Inc. and Space Exploration Technologies Corp., who gave to Clinton. He's marked down as an "engineer" at Tesla on Clinton's report, meaning he wouldn't have been counted among her total list of CEOs.
Buried among the more than 250,000 Clinton donors is a who's who of American business, including Ruth Porat, the new CFO of Google; Kathy Waller, CFO of Coca-Cola Co.; Bob Iger, CEO of the Walt Disney Co.; Dana Walden, co-CEO of 20th Century Fox Television; and Walter Robb, the co-CEO of Whole Foods Market. She counted donations from the vice chairmen of Loews Hotels and NBC Universal.
From the world of sports, she got donations from Avie Glazer, co-chairman of Manchester United, the U.K. soccer team, and Jeffrey Lurie, owner of the National Football League's Philadelphia Eagles.
Among notable names giving to Bush were John Tyson, chairman of Tyson Foods Inc.; Ryan Lance, CEO of Conocophillips; Jeff Henley, vice chairman of Oracle; William Heyman and Alan Schnitzer, both vice chairmen of Travelers Cos. Inc.
Republican Senators Ted Cruz and Marco Rubio attracted fewer titans of industry. From this group, Cruz received donations from 333 donors, though some gave multiple times in small amounts, totaling more than $440,000. Rubio had more than 370 such donors contributing a total of more than $350,000. The names on Rubio's list? John Chambers, outgoing Cisco CEO; and Mike George, CEO of QVC Inc., the home shopping channel.
Before it's here, it's on the Bloomberg Terminal.
LEARN MORE