Obama to Send Off Stewart in Seventh Daily Show Appearance
Angela Greiling Keane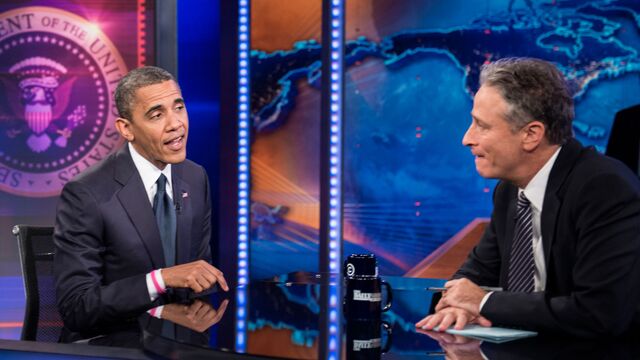 President Barack Obama and Jon Stewart will share one last moment of zen.
Obama will appear for the seventh time on the "Daily Show" on July 21, three weeks before Stewart hands off hosting duties to Trevor Noah, White House Press Secretary Josh Earnest said. It's a send-off for Stewart and an opportunity for Obama to sell his nuclear deal with Iran to a millennial audience.
Obama has appeared on Stewart's show twice as president and four times as a presidential candidate and U.S. senator. In his most recent visit, on Oct. 18, 2012, the president assessed his debate performance against then-Republican presidential nominee Mitt Romney as an "off night" and pledged a full accounting of an attack on a U.S. mission in Benghazi, Libya.
Stewart, 52, announced in February that he would leave the program he's hosted for 17 years on Viacom Inc.'s Comedy Central. His last day as host will be Aug. 6.
Obama is a fan of the late-show format, where he's proved adept at jousting with hosts paid for their wit. In May, he was one of the final guests on the "Late Show With David Letterman." He appeared on ABC's "Jimmy Kimmel Live!" in March.
(A previous version of this story included an incorrect date for Stewart's last show.)
Before it's here, it's on the Bloomberg Terminal.
LEARN MORE