Obama Plans Meeting About Iran Agreement With Saudi Diplomat
Justin Sink and David Lerman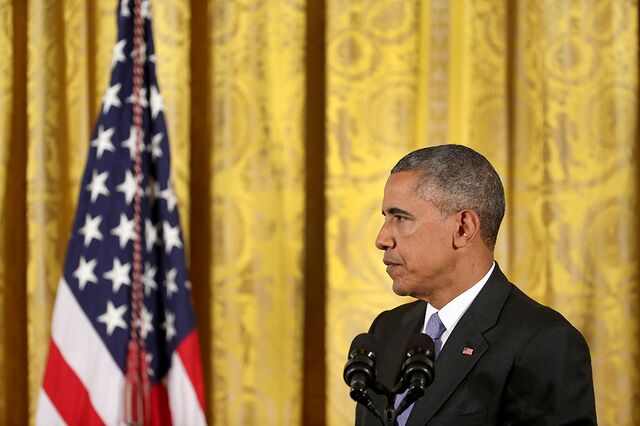 President Barack Obama made the case to Saudi Arabia's foreign minister Friday for the nuclear agreement with Iran that's unsettling the U.S.'s Gulf allies.
The U.S. president and Adel Al-Jubeir discussed a "range of regional and bilateral issues," including the Iran deal, at the White House, press secretary Josh Earnest said at a news briefing.
While Obama doesn't ordinarily meet with foreign officials who aren't heads of state, Earnest said, he saw Al-Jubeir at the request of Saudi King Salman. The event was kept low-key and wasn't included in Obama's public schedule.
The White House meeting follows one on Thursday between Al-Jubeir and Secretary of State John Kerry, as the Obama administration tries to ease the concerns of Shiite Iran's Sunni rivals in the Gulf about the agreement, which called for Iran to curb its nuclear program in return for the lifting of crippling economic sanctions.
After meeting with Kerry, Al-Jubeir told reporters, "All of us in the region want to see a peaceful resolution to Iran's nuclear program." He added that "if Iran should try to cause mischief in the region, we are committed to confront it resolutely."
Gulf allies, led by the Saudis, have questioned whether Iran can be trusted to honor the accord and how it may use its newfound clout and revenue in a region ripped apart by sectarian conflicts. Many of the same concerns are being voiced by Israel, and by members of the U.S. Congress who will have 60 days to review the agreement before deciding whether to vote against it.
Carter's Travels
Secretary of Defense Ashton Carter plans to meet early next week in Israel with officials including Prime Minister Benjamin Netanyahu, an outspoken critic of the Iran deal.
Carter won't try to persuade Netanyahu to support an agreement that he has staunchly opposed, but instead will use the visit to discuss ways to bolster U.S.-Israeli cooperation, prevent terrorist attacks and maintain Israel's "qualitative military edge" in weaponry, according to a U.S. defense official who briefed reporters on condition of anonymity to discuss private talks.
"Allied relationships bend," the official said of U.S.- Israeli ties. "They do not break."
The trip will include a visit to Israel's northern command near the Lebanese border, and a meeting with Moshe Ya'alon, Israel's defense minister.
Iran's Aggression
Carter also plans to meet with Saudi officials in Jeddah, Saudi Arabia, to discuss ways to counter Iran's aggression in the region and the effort to defeat Islamic State forces in Iraq and Syria, the official said.
While no new weapons deals are planned, the talks will build on the cooperation outlined at the Camp David summit that Obama held in May with members of the Gulf Cooperation Council, the official said.
Kerry will continue that effort, meeting council members in Doha, Qatar's capital, on Aug. 3.
As Congress opens its review of the deal, Obama is sending three Cabinet members involved in the issue to make the case on Capitol Hill next week.
Kerry, Energy Secretary Ernest Moniz and Treasury Secretary Jacob J. Lew will testify on July 23 before the Senate Foreign Relations Committee on the agreement, which has drawn objections from lawmakers from both parties. House Speaker John Boehner said Thursday that the deal faces stiff opposition.
Boehner's Count
"It's pretty clear to me that a majority of the House and Senate, at a minimum, are opposed to this deal," Boehner, an Ohio Republican, told reporters.
Many Republican lawmakers already have denounced the accord as inadequate, and a number of Democrats have said they're skeptical as well. Still, members would have to muster two-thirds votes in both chambers to reject the deal over Obama's veto.
Beginning a weekend blitz of television interviews to defend the accord, Kerry warned lawmakers Friday that a vote against the Iran deal may leave the U.S. largely helpless to curb that nation's nuclear program.
"If the United States Congress says no to this, the sanctions are gone, our inspections are gone, our knowledge of what they are doing will be gone, our support from the international community will be gone," Kerry said on MSNBC's "Morning Joe" program.
"Iran will be free to go out and do what they want, and we will have no recourse," he said.
Kerry, in an interview Friday on "PBS NewsHour," dismissed what he called "a lot of fantasy out there about this, quote, better deal" that could be achieved.
"What I regret is that so many members of Congress -- without even reading the agreement or knowing what all the components were -- were just automatically, out of politics or something, saying no and then finding the reasons to hang their hat on it," Kerry said.
Before it's here, it's on the Bloomberg Terminal.
LEARN MORE