Kerry Warns Congress on Iran: 'This Is a Choice Between a Diplomatic Solution and War'
Toluse Olorunnipa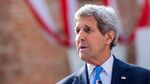 Secretary of State John Kerry is warning lawmakers before his Senate testimony next week that a vote against the Iran deal may leave the U.S. largely helpless to curb that nation's nuclear program.
"If the United States Congress says no to this, the sanctions are gone, our inspections are gone, our knowledge of what they are doing will be gone, our support from the international community will be gone," Kerry said Friday on MSNBC's ''Morning Joe'' program.
"Iran will be free to go out and do what they want, and we will have no recourse," he said.
Kerry's appearance is part of a media blitz by Obama administration officials to defend the deal since it was completed Tuesday, using news conferences and television interviews to push Congress to support the agreement. President Barack Obama spent more than an hour taking reporters' questions about the accord on Wednesday, at one point opening the floor to address any other concerns that had been raised by members of Congress.
The debate over the deal, which has been described as weak by some lawmakers and denounced by Israeli Prime Minister Benjamin Netanyahu, will intensify next week as Congress starts its review.
Kerry, Energy Secretary Ernest Moniz and Treasury Secretary Jacob J. Lew will testify before the Senate Foreign Relations Committee on July 23 on the seven-nation agreement.
Skeptical Lawmakers
House Speaker John Boehner said Thursday that the deal faces stiff opposition.
"It's pretty clear to me that a majority of the House and Senate, at a minimum, are opposed to this deal," Boehner, an Ohio Republican, told reporters at the Capitol.
On Friday, Representative Peter Roskam, an Illinois Republican who is co-chairman of the House Republican Israel Caucus, said he had introduced a resolution expressing the sense of the House of Representatives in disapproval of the Iran agreement.
The resolution, H.Res. 367, is cosponsored by 171 fellow Republicans -- no Democratic House members. It aims to build support for an expected vote on a formal joint resolution of disapproval in September.
"This is a bad deal, and it must be stopped. My legislation sets the stage for the 60-day lead-up to a vote on this agreement by allowing members to express their disapproval of the accord," Roskam said in a statement.
'No Recourse'
Obama has described the vote on the proposed deal as a choice between diplomacy and war. Kerry added the argument that rejecting the agreement would leave the U.S. isolated, in the dark about Iran's actions and without options.
"We will have no recourse and, if we wanted to take action, we will have lost the international community," Kerry said. "This is a choice between a diplomatic solution and war."
Under the deal, Kerry said, monitors will have round-the-clock surveillance of parts of Iran's nuclear program and that it would be impossible for the Islamic Republic to covertly develop a bomb with such intrusive monitoring.
Kerry 'Hopeful'
Kerry also said he remains "hopeful" that four Americans held or missing in Iran would be released. It's a case he said he made daily to Iran's Foreign Minister Mohammad Javad Zarif, including in the moments before the two stepped out to announce the deal in Vienna.
"There was not a meeting that took place -- not one meeting that took place, believe me that is not an exaggeration -- where we did not raise the issue of our Americans being held," Kerry said in the broadcast interview.
Obama met Friday with Foreign Minister Adel Al-Jubeir of Saudi Arabia to make the case for the agreement, according to a White House official who asked for anonymity to discuss a meeting that wasn't publicly announced.
Al-Jubeir, who met with Kerry on Thursday, hasn't endorsed the deal, as Saudi Arabia and other U.S. partners in the Gulf have expressed concern about Iran's actions in the region.
"We hope that the Iranians, if a deal is implemented, that the Iranians will use this deal in order to improve the economic situation in Iran and to improve the lot of the Iranian people, and not use it for adventures in the region," Al-Jubeir said Thursday.
Before it's here, it's on the Bloomberg Terminal.
LEARN MORE