Donald Trump: 'John McCain Was Very Disloyal To Me'
"I'm a loyalist," the real estate mogul and Republican presidential candidate said Friday.
by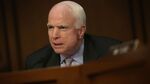 Republican presidential candidate Donald Trump, continuing his public spat with his party's 2008 presidential nominee, suggested that Arizona Senator John McCain, should be defeated in his Republican primary next year.
"I'm a loyalist," the real estate mogul told MSNBC's Morning Joe Friday,  speaking of the Arizona senator's condemnation of Trump's tone on illegal immigration. "I'm a person that like if somebody is with me, I'm with that person. And John McCain was very disloyal to me."
Trump, who has made a number of political contributions over the years, including a $28,450 donation to the McCain Victory Committee 2008, predicted that McCain, who will run for his sixth term next year, will lose the race. "If the right person runs against him, they'll win in the primary. He's not very popular there anyway."
Trump also said he applied one of his favorite insults—"dummy"—to McCain on Twitter on Thursday and claimed he was "last in his class at Annapolis" because the senator, who has pushed his party to embrace immigration reform, "was very nasty to" him.
(For the record, McCain was actually fifth-last in the Naval Academy's 899-member class of 1958.)
McCain had told the New Yorker in a Thursday article that Trump "fired up the crazies" with his comments that Mexico was sending "rapists" to the U.S. and at a rally addressing illegal immigration in McCain's home state that attracted thousands. "This performance with our friend out in Phoenix is very hurtful to me," McCain said.
All that seemed a bit much to Trump, who said that in addition to supporting McCain in 2008, he raised a "tremendous amount of money" for him.
"We had a tremendous crowd of people there and when he called them crazies—I think he will lose the primary," Trump said.
Before it's here, it's on the Bloomberg Terminal.
LEARN MORE