Obama Highlights Racial Injustice Faced by American Indians
The president has often focussed on the need to "do better by our first Americans."
by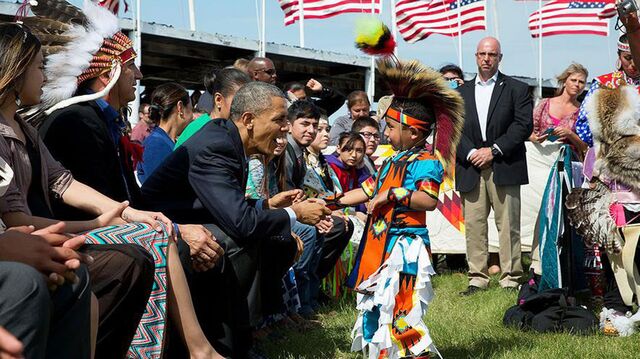 This past Presidents Day, a website called Native News Online compiled a list of statements that American presidents have made about American Indians. "The reader," blogger Levi Rickert wrote, "will get a sense of how the hostility towards American Indians has lessened during the past two hundred plus years," from George Washington:
"Indians and wolves are both beasts of prey, tho' they differ in shape."
"I don't go so far as to think that the only good Indians are dead Indians, but I believe nine out of ten are, and I shouldn't like to inquire too closely into the case of the tenth."
To John F. Kennedy:
"For a subject worked and reworked so often in novels, motion pictures, and television, American Indians remain probably the least understood and most misunderstood Americans of us all."
To Barack Obama:
"We also recommit to supporting tribal self-determination, security, and prosperity for all Native Americans. While we cannot erase the scourges or broken promises of our past, we will move ahead together in writing a new, brighter chapter in our joint history."
On Wednesday evening, President Obama visited Durant, Oklahoma, the headquarters of Choctaw Nation, the country's third-largest American Indian tribe. He was there to launch a new program, called ConnectHome, that aims to provide high-speed Internet access to low-income households. In Durant High School, Obama stood at a lectern emblazoned with the usual presidential seal—but this time there was another seal, too, with a bright bow and arrow at the center: the "Great Seal of the Choctaw Nation." He spoke of economic opportunity and the need for Internet connectedness. There were nearly 1,000 attendees, some donning beaded headdresses and Choctaw dresses called "illefokha."
"We've got a special obligation to make sure that tribal youth have every opportunity to achieve their potential," Obama said. "We're going to do better by our first Americans." 
Obama's stop in Choctaw Nation may have seemed an odd fit, sandwiched as it was between a speech on criminal-justice reform Tuesday to the NAACP, and a visit Thursday to a federal prison (the first by a sitting president). But it is of a piece with the kind of attention Obama, the country's first African-American president, seems to place on, in his words, the "scourges or broken promises of our past."
This president, who frustrated us with his intellectual, at times distant demeanor, has been speaking in more visceral terms of the plague of American racism—of "a systemic problem," a prejudice "embedded deep in society." Last month, in his eulogy for the Rev. Clementa C. Pinckney, he spoke of "racial subjugation" and "unjust laws," he mentioned "systemic oppression." And in an interview with the comedian Marc Maron, he said, "we are not cured" of racism.  "It's not just a matter of overt discrimination," he said. "Societies don't overnight completely erase everything that happened 200-300 years prior."
Which is why Obama hosted the first-ever White House Tribal Youth Gathering on July 9, with about a thousand young representatives from 230 tribes. The president who launched the program "My Brother's Keeper," which works to help enfranchise young African-American men, who created the White House Council on Women and Girls, which pays special attention to women and girls of color, also installed an initiative called Generation Indigenous.
Last year, the Choctaw Nation was selected to be one of President Obama's first 'Promise Zones,' part of a federal initiative to help lift up the needs of children in impoverished communities that takes inspiration from New York's Harlem's Children's Zone. MSNBC reported last year that, in one county a high population of Choctaw, more than 3 out of 10 children live in poverty. The rate of teen pregnancy is almost twice the national average, and the rate of STDs is almost four times the national average.
Recent American presidents have worked to try to create better opportunity for tribes and communities, to reinstate sovereignty and to honor Native American history and tradition. George H.W. Bush was the first president to designate a National American Indian Heritage Month, in 1990. But the tenor of the current White House's discussion on the subject is another kind of reckoning.
In April, First Lady Michelle Obama hosted a White House Convening for Native Youth, part of an initiative of Generation Indigenous. At the gathering, she spoke of a group of teen-agers that the Obamas met a year ago June, on a trip to North Dakota to visit the Standing Rock Sioux Nation tribe. "The best and brightest," she called them. "Just about every kid in that room had lost at least one friend or family member to drug or alcohol-related problems, or to preventable illnesses like heart disease, or to suicide. In fact, two of the girls went back and forth for several minutes trying to remember how many students in their freshman class had committed suicide—the number was either four or five. . . this is out of a class of 70."
"We need to be very clear about where the challenges in this community first started," she said, according to the text of her prepared remarks published by the White House.
She offered examples from American history, "starting with how, back in 1830, we passed a law removing Native Americans from their homes and forcibly re-locating them to barren lands out west. The Trail of Tears was part of this process. Then we began separating children from their families and sending them to boarding schools designed to strip them of all traces of their culture, language and history. And then our government started issuing what were known as "Civilization Regulations"—regulations that outlawed Indian religions, ceremonies and practices—so we literally made their culture illegal." 
It was the week of the 150th anniversary of the end of the Civil War, a week marked by re-enactments at Appomattox and ceremonies in Arlington, Virginia. The first lady may have had in mind her great-great-great-grandmother Melvinia who, at six, in 1850, was a child separated from her own family, shipped off to Georgia as a slave.
"Folks in Indian Country didn't just wake up one day with addiction problems," Michelle Obama said. "Poverty and violence didn't just randomly happen to this community. These issues are the result of a long history of systematic discrimination and abuse."
Before it's here, it's on the Bloomberg Terminal.
LEARN MORE