Hedge-Fund Money Is Fuel for Feud Between Cuomo and De Blasio
Henry Goldman and Freeman Klopott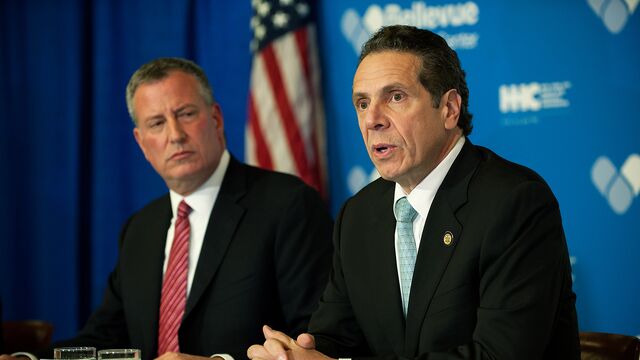 The five-bus caravan rumbling into East Hampton last weekend couldn't be mistaken for the luxury jitneys that bring Manhattanites to Long Island's east end each summer.
There were no reclining leather seats or DVD monitors for the rag-tag group of passengers. Calling themselves the Hedge Clippers, they came from the Bronx, Brooklyn and Queens to the oceanfront estate of billionaire Daniel Loeb. He was hosting a $5,000-per-person fundraiser for Governor Andrew Cuomo, and they were there to protest.
Loeb is among a group of hedge-fund managers who have spent millions in campaign contributions pushing to expand charter schools and get tax credits for private-school donations. Those are policies backed by Cuomo, a Democrat, and Republicans who control the state Senate. The money has pitted them against teachers' unions and stoked a feud that's frayed a 20-year friendship between the governor and New York Mayor Bill de Blasio.
"Cuomo and de Blasio have deep differences over education policy due in large part to a mutually beneficial relationship between the governor and hedge-fund executives," said Prudence Katze, a specialist in political funding for New York's chapter of Common Cause, which advocates campaign-finance reform.
Looming Large
Most galling to the mayor was the governor's decision last month to limit renewal of mayoral control of city schools to just one year; de Blasio had sought permanent oversight. As part that deal, the governor doubled the number of new charter schools allowed in the city to 50.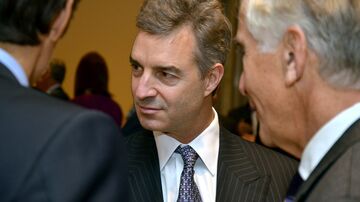 "The hedge-fund contributors loom very large in Albany, and they have way too much influence; that is a fact," de Blasio told reporters last month. Even so, he said, he didn't believe they directly pressured Cuomo to limit control to one year.
Others, including state Republican Chairman Ed Cox, take the opposite view, saying hedge-fund campaign spending may have persuaded Cuomo and Senate Republicans to send a message to de Blasio.
"It was the money that was involved that went along with the governor's general desire to keep de Blasio on a short leash, and these two things reinforced each other," Cox said in an interview. "This gave him a good excuse to do it."
Cuomo, 57, denies that the one-year limit represented a slight. The mayor must learn he can't always get what he wants, he has said.
"Next year, we can come back, and if he does a good job we can say he should have more control," Cuomo said July 7, after de Blasio called reporters into his office to express his annoyance with the governor.
Tax Credits
Cuomo said he also experienced frustration last month when Assembly Democrats blocked tax credits valued at as much as $1 million for donations to nonprofit organizations that provide private-school scholarships. Hedge-fund managers Bruce Kovner, chairman of Caxton Alternative Management LP, and Paul Singer, founder of Elliott Management, were among the backers of a campaign that supported the bill with television advertisements.
Cuomo hasn't always backed legislation favored by the industry. In December, he vetoed a bill that would have allowed state, city and teachers pension funds to allocate 30 percent of their investments to hedge funds, private equity and international bonds, up from 25 percent.
The spat between Cuomo and de Blasio mirrors the battle between hedge-fund executives and teachers' unions. The fight intensified last year when Cuomo ran for a second term and Democrats and Republicans fought for control of the Senate.
De Blasio, 54, raised money and campaigned for Democrats, hoping they would win Senate control and back his agenda to support struggling public schools over expansion of charters. The effort failed.
The more than 600,000-member New York State United Teachers supported de Blasio's effort, spending more than $4.5 million to support Democrats in both legislative chambers through an independent committee.
Several who marched in East Hampton were members of the state teachers' union, and Hedge Clippers is backed by the American Federation of Teachers, the national organization. They lined up on a narrow road carrying golden hedge shears and chanting anti-Cuomo slogans as Porsches and BMWs approached Loeb's house, which was obscured by shrubbery. Township police and private guards kept watch.
Golden Shears
Two airplanes circled above towing banners promoting the Hedge Clippers website and proclaiming "Hedge Funds = Inequality."
"We crashed Loeb's fundraiser for Cuomo to show that he and his hedge-fund billionaire friends are helping the wealthy elite at the expense of everyone else," said Michael Kink, executive director of the union-backed Strong Economy For All Coalition, which helped organize the trip.
Cuomo's gubernatorial campaigns have received about $3.5 million from hedge-fund executives, filings show.
While running for re-election last year, Cuomo received about $286,000 from the same donors who backed New Yorkers for a Balanced Albany, a pro-charter political-action committee that Loeb helped fund. The PAC collected $4.3 million from a dozen current and former hedge-fund operators, including $1 million donations from Loeb, who is chief executive officer of Third Point LLC, and Julian Robertson Jr., CEO of Tiger Management LLC.
'Very Passionate'
Larry Robbins, CEO of Glenview Capital Management LLC, who gave the PAC $50,000, was the biggest Cuomo donor, sending $60,800 to the governor's 2014 re-election campaign.
Loeb, Robertson and Robbins declined requests for comment. Paul Tudor Jones, founder of Tudor Investment Corp., who gave $500,000 to the group, sent an e-mail explaining his reasoning.
"I am very passionate about improving New York's schools because the poorest New Yorkers are the ones being most hurt," Tudor Jones wrote. "I'll work with anyone who will help turn things around."
In 2013, after de Blasio was elected as the first Democrat to run City Hall in 20 years, Tudor Jones said of the former Brooklyn school board member: "I don't think he fully understands education."
Rich Azzopardi, a Cuomo spokesman, called the protest at Loeb's house nothing more than "performance art from the same paid political activists under another name."
"The governor's progressive achievements are nationally recognized and stand on their own," he said.
Merryl Tisch, New York's chancellor of the Board of Regents, which sets education policy for the state, says the fight has emboldened those with the most extreme points of view and politicized school governance.
"It's a campaign-finance issue," Tisch said in an interview. "How people buy influence. What they do with the influence, is guided by different perspectives. My friends in the teachers union, my friends in the financial world, are on opposite sides of the fence."
Before it's here, it's on the Bloomberg Terminal.
LEARN MORE