Donald Trump Says He's Thankful for Ted Cruz's Support
The love fest continues in a phone interview with Bloomberg.
by and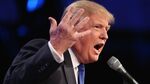 The Donald Trump-Ted Cruz love fest continues.
Trump, the real estate mogul turned Republican presidential candidate, opened up Thursday about his closed-door meeting with his nomination rival the previous day at Trump's New York office tower, calling the Texas senator "a great guy."
"I was very happy that he wanted to come up because I wanted to thank him for backing me. It turned out we were both right and everyone else was wrong," Trump said in a phone interview with Bloomberg. 
The meeting, which Trump said lasted for about an hour, came after Cruz said he saluted Trump for his outspokenness on U.S.-Mexico border security and illegal immigration. Trump has lost business and been condemned by other Republicans since he made controversial comments about Mexican immigrants in his campaign kickoff speech last month.
"And then after that happened you had some real tragedies happen, from the escape to Kate to so many other crimes that took place," Trump said, apparently referring to the prison escape of a notorious Mexican drug lord and the death of a San Francisco woman allegedly at the hands of an undocumented immigrant. "And everybody's saying I'm right so it's always nice to be right."
Cruz said that the meeting was "delightful" and that he did not ask for Trump's endorsement, according to CNN. A Cruz adviser told Bloomberg the meeting was friendly and Trump was very gracious. Asked what was discussed, the aide would only the meeting covered a wide variety of topics.
Trump also responded to MSNBC host Lawrence O'Donnell, who Thursday on Morning Joe questioned Trump's claim that he earned $213 million for 14 seasons of his reality-television show The Apprentice.
"Could you imagine me signing a false document?" Trump said. "Me? Right now the most high-profile guy in the world. More Google hits than anybody in the entire world by a factor of 10."
Trump suggested that his earnings from the show are not only based on on-camera time, but that he also got part of the program's revenue. NBC declined to comment on Trump's remarks. 
—Gerry Smith contributed to this report. 
Before it's here, it's on the Bloomberg Terminal.
LEARN MORE