Chris Christie's Debut Brings No Bounce as He Risks Missing Fox Debate
Terrence Dopp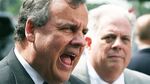 After Jeb Bush announced plans to run for president, his standing in a national survey got a 6 percentage-point bump. Donald Trump's announcement meant an 11-point bump.
Chris Christie? No such bump.
Since New Jersey's governor made it official June 30, his support has dropped to 2 percent from 4 percent in a nationwide Monmouth University poll with a 5.4 percentage-point error margin. He tied for ninth place with four other potential Republican primary candidates in a Fox News survey released the week before before his announcement.
As Christie on Thursday returns for a 12th time to New Hampshire, the first primary state, poll results put him in danger of missing the cutoff for the initial televised debate. Fox, which is hosting the Aug. 6 event in Cleveland, is limiting the stage to the top 10 candidates in an average of five national surveys.

Read more about the wide Republican field angling for the 10 available spots in the upcoming debates.
"He just waited too long to jump in," said John Catsimatidis, a former Republican candidate for New York mayor who has donated to past Christie campaigns and is supporting Bush for 2016. "He should have been in a month or two ago."
Christie, whose push for employee-benefit cuts and lower taxes made him a national figure, has struggled to recapture the support that led donors and leaders to urge him to run for president in 2011. Since turning them down, his approval at home has fallen to a low of 30 percent after a traffic scandal, record credit downgrades and a lagging economy.
Michael DuHaime, an adviser to Christie, said his campaign has stirred excitement on the ground.
"It's the entirety of the picture and the polls are certainly erratic at this point," DuHaime said. "What you can see is momentum, and you have to look beyond just the polls."
Yet the polls have been unforgiving.
In Monmouth's July 13 survey, 25 percent had a positive view of Christie. His rating has dropped since December 2014, when it was 36 percent favorable. The poll was conducted with 1,001 adults, and the results are based on a sample of 336 registered voters who said they were Republican or leaned that way.
"He's just not getting the kind of buzz nationally that he thought his announcement would have given him," said Patrick Murray, director of the Monmouth poll in West Long Branch, New Jersey. "I'm surprised, because every other high-profile candidate has gotten a bump."
Slots Filled
So far, 15 Republicans have announced they are running for president. At least two more -- Ohio Governor John Kasich and former Virginia Governor Jim Gilmore -- plan to join in.
In 2011, one of Christie's biggest selling points was being a Republican who could get elected in a blue state, said Chris Galderi, a politics professor at Saint Anselm College in Manchester, New Hampshire. Wisconsin Governor Scott Walker wears that mantle today.
A more mainstream hopeful? That's Kasich's niche.
As far as being a "loudmouth from the New York media market," Trump has that cornered, Galderi said.
"It's tough to look at the Republican field and see what added value there is to Chris Christie," Galderi said. "In 2011 that was clear. There was nobody like him."
According to the most recent average of five polls blended by RealClearPolitics, Christie and former Texas Governor Rick Perry tie for ninth with 2.8 percent. The list of polls, which includes Murray's, is so close at the bottom that the decision may come down to less than a percentage point, he said.
"His path to get back to the top tier is simple: He's got to make that debate stage," said Ford O'Connell, managing director of Washington communications firm Civic Forum Strategies and former campaign official for Republican John McCain. "If he doesn't win New Hampshire, he's dead in the water."
With this trip, Christie will have spent seven of 17 days since his announcement in New Hampshire, which holds its primary in February. His tour includes a town-hall meeting Thursday in Franklin, followed by a breakfast in Milford on Friday along with a house party in Salem.
Earlier Thursday, Christie appeared in Camden to highlight his efforts to call for federal law enforcement changes similar to his in New Jersey to expand the state's drug courts instead of jail time for non-violent offenders and increasing bail for the most violent. As governor, Christie changed sentencing guidelines to call for mandatory rehab for some offenders rather than prison time.
On July 10, Christie's campaign announced a $500,000 purchase of television time from broadcast channels in Boston and Manchester. America Leads, the super-political action committee supporting Christie, plans to spend $3.9 million on ads there beginning July 20.
The super-PAC has raised $11 million since February. Such groups can collect unlimited sums, though they can't coordinate with a campaign.
Bush's super-PAC has raised $103 million this year, while a group of Ted Cruz-affiliated super-PACs said they raised a combined $37 million since early April. Committees supporting Kasich, who plans to announce July 21, have raised more than $10 million in eight weeks.
Steady Work
Christie is a proven fundraiser, having drawn a record $106 million as chairman of the Republican Governors Association. His team includes Home Depot Inc. co-founder Kenneth Langone, Republican money-broker Bobbie Kilberg and Boston management consultant Chris Vincze.
While Bush made headlines with his fundraising totals and Trump scored with charged statements on immigration, Christie has been steadily working to build momentum, Vincze said in an interview.
"No one is beyond 15 or 16 percent, so this is really still up in the air," he said. "It's not as glamorous as when you go from the really low numbers right up to high ones, but we're getting there."
During a July 6 interview on Fox, Christie said he will make the top 10.
"We're going to go out and work, talk about our ideas, and you'll see those numbers move," Christie said.
(A previous version of this story was corrected to fix the spelling of Galderi)
Before it's here, it's on the Bloomberg Terminal.
LEARN MORE