The Trump Litmus Test
How the reality TV star's Republican rivals talk about him says a lot about where they stand on the ideological spectrum.
by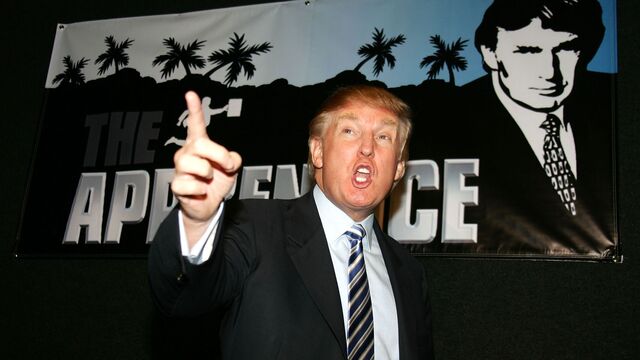 In the course of 24 hours, two of Donald Trump's Republican presidential rivals have said two very different things about him that had the benefit, for both, of attracting a bit of the media attention that follows the self-described billionaire candidate.
Jeb Bush has generated quite a bit of chatter with a comparison he made Tuesday at a campaign stop in Council Bluffs, a city on the western edge of Iowa.
"We need to stop tearing—separating ourselves by race and ethnicity and income. We need to focus on the things that tie us together. And whether it's Donald Trump or Barack Obama their rhetoric of divisiveness is wrong," the former Florida governor told the crowd. "A Republican will never win by striking fear in people's hearts."
Ted Cruz had a markedly different take. While in New York on Wednesday for a financial conference, the Texas senator planned to meet with his Republican competitor. Before the session, he described to NBC himself as "a big fan" of Trump and adding: "I think he brings a bold, brash voice to this presidential race."
The real estate mogul has drawn widespread condemnation for recently likening Mexican immigrants to "rapists" that are "bringing drugs; they're bringing crime" to the United States. His unrestrained attacks on illegal immigration have poured gasoline on an already explosive debate that has divided the party. Some conservatives have praised his focus on an issue they say the Republican Party isn't sufficiently concerned about.
The Trump schism reflects the divide within the crowded Republican field—Bush fares best among establishment figures and moderate Republicans who detest Trump and fear his ascent will damage the party. Many of his rivals, meanwhile, are competing the for the anti-establishment conservative base that Trump is effectively channeling. Retired neurosurgeon Ben Carson and former Hewlett-Packard CEO Carly Fiorina—who have said favorable things about Trump tapping into anger about illegal immigration. 
Bush's broadside wasn't an off-the-cuff moment. His campaign clipped a 45-second video of those remarks and distributed them widely to reporters.
But by comparing Trump to Obama, Bush is leveling a critique calculated to resonate with conservatives. Among Republicans, it's an article of faith that Obama is one of the most divisive presidents in history, if not the most divisive. Their evidence for this generally focuses on his calls for upper income people to pay higher taxes. To his critics, that amounts to "class warfare." So the assertion is hardly novel. But the comparison to Trump—loved and hated for his incendiary, unrestrained rhetorical style—certainly is. Bush's campaign didn't respond to a message asking how he ranks Trump's divisive rhetoric against Obama's.
"The strategy is to show just how negative Trump is with his campaign and in order to effectively lead, there must be a positive vision going forward," said Ron Bonjean, a Republican operative who isn't working for any of the presidential candidates. "It's effective because it calls out how negative Trump really is with his sensationalist comments and takes it a step further by tying him to Obama's anti-Republican rhetoric."
One Democratic strategist speculated that Bush was trying to disqualify Trump with Republican voters by comparing him to Obama. That's more likely to sway Republicans than labeling Trump a racist, the theory goes.
A poll by Suffolk University and USA Today released Tuesday, the same day Bush made his remarks, found Trump leading the Republican primary field with 17 percent. Bush came second with 14 percent.
Before it's here, it's on the Bloomberg Terminal.
LEARN MORE