Scott Walker: Gay Troop Leader Ban Protected Scouts From 'Political and Media Controversy'
The Republican presidential candidate seeks to clarify what he meant when he said the ban "protected children."
by and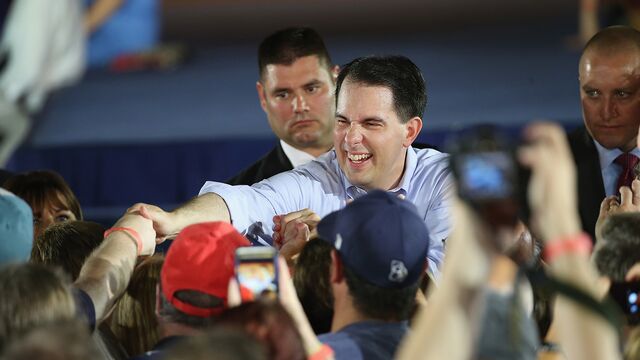 Republican presidential candidate Scott Walker said Wednesday that he had been misunderstood when he said the Boy Scouts' now-defunct ban on gay troop leaders "protected children."
"The protection was not a physical protection," Walker told reporters in Lexington, South Carolina, two days after announcing his campaign for president. "It's a protection [from] discussion about the policy—protected them from being involved in the very thing you're about to talk about right now, political and media discussion about it, instead of just focusing on what Scouts are about, which is about camping and citizenship and things of that nature."
The Wisconsin governor's remarks come as he seeks to court social conservatives in Iowa and other early nomination voting states. The 47-year-old is an Eagle Scout himself. The executive committee of the Boy Scouts of America unanimously approved a resolution this week that would end a ban on gay adult leaders and let local troops set their own policies. 
Walker told the conservative news outlet IJReview on Tuesday that he supported "the previous membership policy because it protected children and advanced Scout values." The Human Rights Campaign, a gay rights group, slammed the comments as "offensive, outrageous, and absolutely unacceptable" and said his "comments imply that [gays and lesbians] represent a threat to the safety and well-being of young people."
The policy should be "up to the Boy Scouts," Walker said Wednesday. "The policy was perfectly fine when I was there and I thought they should be protected from all the political and media controversy."
"I'm not running for president for the Boy Scouts," he added.
Asked in 2013 whether gay people should be allowed into the organization, Walker declined to comment, saying he had "enough troubles and challenges dealing with what I have in state government to take on anybody else's challenges," according to the Milwaukee Journal Sentinel.
Watch the video here:
Before it's here, it's on the Bloomberg Terminal.
LEARN MORE