Obama Casts Iran Accord as Choice Between War and Diplomacy
Margaret Talev and Angela Greiling Keane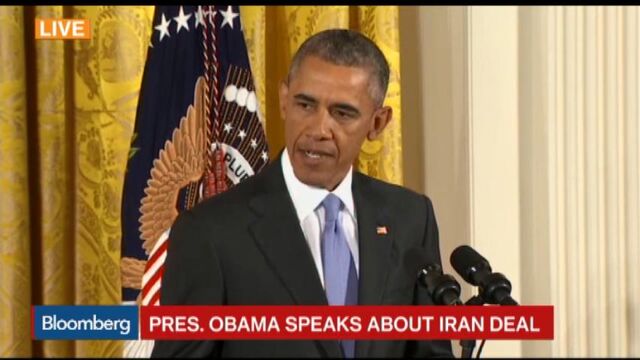 President Barack Obama mounted a forceful defense of the accord intended to keep Iran from obtaining nuclear weapons, challenging opponents of the deal to say they would be prepared to wage war on the Islamic Republic instead.
"There really are only two alternatives here: either the issue of Iran obtaining a nuclear weapon is resolved diplomatically, through a negotiation, or it's resolved through force, through war" Obama said Wednesday at a White House news conference. "Those are the options."
Iran, the U.S. and five other nations announced the nuclear agreement on Tuesday in Vienna after almost two years of negotiations. Republican lawmakers and Israeli Prime Minister Benjamin Netanyahu have criticized the deal as weak, in part because Iran would be allowed to continue enriching uranium for use in power plants.
"We don't have diplomatic leverage to eliminate every vestige of a peaceful nuclear program in Iran," Obama said. "What we do have is the leverage to make sure they don't have a weapon. That's exactly what we've done."
Counting Uranium
An extensive inspections regime covering "the entire production chain" in Iran will ensure that if the country cheats on the agreement, it will be caught, Obama said.
"If, in fact, we're counting the amount of uranium that's being mined and suddenly some's missing on the back end, they've got some 'splaining to do," he said.
Obama appeared eager to engage critics of the nuclear deal, inviting reporters at the news conference to offer arguments against the agreement so that he could give his rebuttal. If Congress disapproved the deal, he said, other countries would be unlikely to agree to restore sanctions against Iran as long as it abided by the terms of the accord.
He raised the possibility of increased aid to Mideast allies, including Israel and Sunni Arab states, to counter any improvements Iran makes in its conventional military and intelligence forces after sanctions are lifted.
"That includes providing additional security assurances and cooperation to Israel," he said.
Opponents of the accord say that congressional disapproval would force Iran back to negotiations, where the U.S. could then obtain a better deal. The agreement relieves sanctions too quickly, doesn't require Iran to destroy or disable centrifuges used to enrich uranium, and doesn't give inspectors access to the entire country on short notice, the American Israel Public Affairs Committee, a lobbying group for supporters of Israel, said Wednesday in a statement.
Better Deal
"Congress should reject this agreement, and urge the administration to work with our allies to maintain economic pressure on Iran while offering to negotiate a better deal that will truly close off all Iranian paths to a nuclear weapon," Aipac said.
A spokesman for House Speaker John Boehner, an Ohio Republican, said Obama "is hopelessly disconnected from reality."
"There's little reason for Americans to believe this nuclear deal will do anything to stop Iran's drive for a bomb, or stop its efforts to promote terror and violence throughout the Middle East," the spokesman, Cory Fritz, said in an e-mail.
Iran is more likely to develop a nuclear weapon without the accord, Obama said, calling on U.S. lawmakers to give the it fair consideration. Obama said he has discussed it with leaders of both parties in Congress, which has 60 days to review it.
"This nuclear deal meets the national security interests of the United States and our allies," Obama said. "It prevents the most serious threat, Iran obtaining a nuclear weapon."
'Historic Mistake'
Congressional Republicans and Netanyahu have vowed to kill the deal, declaring it a security threat to the U.S. and the Jewish state. Iran's potential resurgence also poses concerns for Saudi Arabia and risks new Sunni-Shiite tensions in the conflict-riddled Middle East.
Netanyahu has called the agreement a "historic mistake" full of "sweeping concessions." Senator Lindsey Graham of South Carolina, a Republican presidential candidate, said the deal amounts to giving Iran "cash to feed their war machine."
Obama said he expects a "robust" debate in Congress.
"My hope is that everyone in Congress also evaluates this agreement based on the facts, not on politics, not on posturing," Obama said.
"With this deal we cut off every one of Iran's pathways to a nuclear weapons program," he said. "Without a deal, those pathways remain open, and Iran could move closer to a nuclear bomb."
Favorable Odds
The odds of preserving a deal appear to be in Obama's favor. If Congress does pass a resolution to reject the accord, Obama has said he will veto it, which could require a two-thirds vote of Congress to override. Vice President Joe Biden, visiting House Democrats on Capitol Hill before Obama spoke, told reporters, "I think we're going to be OK."
Hillary Clinton, the Democratic presidential front-runner and Obama's former secretary of state, supports the deal. Iranian Foreign Minister Mohammad Javad Zarif called it a "win-win" for the countries involved.
Under the agreement reached with the U.S., China, Russia, the U.K., France and Germany, Iran affirms it won't obtain or develop nuclear weapons. It would receive relief from painful economic sanctions in exchange for abiding by new restrictions on its nuclear work and inspections.
"I can say with confidence, but more importantly, nuclear experts can say with confidence: Iran will not be in a position to develop a nuclear bomb" under the agreement, Obama said.
The accord also would lift a United Nations embargo on conventional arms sales to and from Iran after five years, and end a bar on ballistic missile sales after eight years.
Before it's here, it's on the Bloomberg Terminal.
LEARN MORE