Iran Nuclear Deal Good for U.S. Security, Obama Says
Margaret Talev and Angela Greiling Keane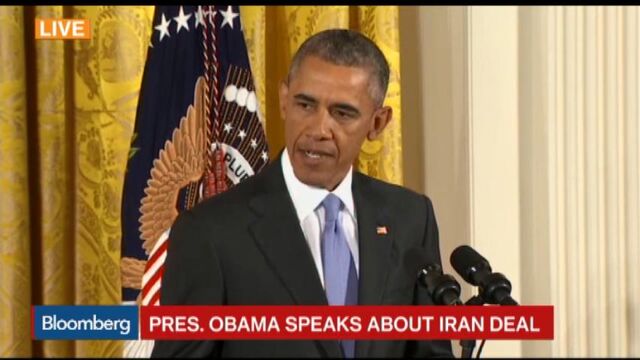 Iran is more likely to develop a nuclear weapon without an accord signed with world powers that limits its work toward a bomb, President Barack Obama said, calling on U.S. lawmakers to give the deal fair consideration.
Iran, the U.S. and five other nations agreed to the nuclear accord on Tuesday. Obama said he has discussed it with leaders of both parties in Congress, which has 60 days to review it.
"This nuclear deal meets the national security interests of the United States and our allies," Obama said at a White House news conference on Wednesday. "It prevents the most serious threat, Iran obtaining a nuclear weapon."
Congressional Republicans and Israeli Prime Minister Benjamin Netanyahu have vowed to kill the deal, declaring it a security threat to the U.S. and the Jewish state. Iran's potential resurgence also poses concerns for Saudi Arabia and risks new Sunni-Shiite tensions in the conflict-riddled Middle East.
Netanyahu has called the accord a "historic mistake" full of "sweeping concessions." Senator Lindsey Graham of South Carolina, a Republican presidential candidate, said the deal amounts to giving Iran "cash to feed their war machine."
Obama said he expects a "robust" debate in Congress.
"My hope is that everyone in Congress evaluates this agreement based on the facts, not on politics, not on posturing," Obama said.
The president warned of the outcome if the agreement is disapproved.
Biden Visit
"With this deal we cut off every one of Iran's pathways to a nuclear weapons program," he said. "Without a deal, those pathways remain open, and Iran could move closer to a nuclear bomb."
The odds of preserving a deal appear to be in Obama's favor. If Congress does pass a resolution to reject the accord, Obama has said he will veto it, which could require a two-thirds vote of Congress to override. Vice President Joe Biden, visiting House Democrats on Capitol Hill before Obama spoke, told reporters, "I think we're going to be okay."
Hillary Clinton, the Democratic presidential front-runner and Obama's former secretary of state, supports the deal. Iranian Foreign Minister Mohammad Javad Zarif called it a "win-win" for the countries involved.
Under the agreement reached by Iran, the U.S., China, Russia, the U.K., France and Germany, the Islamic Republic affirms it will not obtain or develop nuclear weapons. It would receive relief from painful economic sanctions in exchange for abiding by new restrictions on its nuclear work and inspections.
Under the agreement, "I can say with confidence, but more importantly, nuclear experts can say with confidence: Iran will not be in a position to develop a nuclear bomb," Obama said.
The accord also would lift a United Nations embargo on conventional arms sales to and from Iran after five years, and end a bar on ballistic missile sales after eight years.
Before it's here, it's on the Bloomberg Terminal.
LEARN MORE