Flight Delays Add Exhaustion to Scott Walker's Rollout Marathon
He arrives a few minutes late to his stop in the early primary state of South Carolina after driving through the night from Atlanta.
by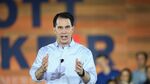 Republican presidential candidate Scott Walker said Wednesday he hasn't slept for more than a day after thunderstorms wreaked havoc on the commercial flight schedule his campaign created to stress his everyman persona and save some money.
The Wisconsin governor arrived just a few minutes late to his 8 a.m. stop in the early primary state of South Carolina, after driving through the night from Atlanta following a missed connection there.
Joined by his three family members and aides, Walker was trying to get to South Carolina from Las Vegas, where he'd made his first campaign appearance Tuesday after announcing his presidential bid Monday in Wisconsin.

"Because of the storms last night, we were diverted to Memphis for a while," Walker told about 250 people gathered at a Harley-Davidson dealership in North Charleston. "Finally, when they got us into Atlanta, we had missed our flight to here by about five minutes."
The journey then continued by rental car.
"A little before three o'clock this morning, we left Atlanta and drove here because we didn't want to let you down because we knew there was a great crowd," Walker said.
The newly minted candidate hit all his standard lines during a 26-minute speech to those gathered on the dealership's sales floor, although his eyes did look weary.
On a more serious note, Walked praised South Carolina Governor Nikki Haley and the state's residents for how they reacted to the shooting deaths of nine people at a historic black church in Charleston last month.
"Thanks to everybody in this region and this state for showing the nation about how to become united when something tragic happens," he said. "Obviously, what happened was something we denounce, not only the action, but the beliefs of the person involved. I will never say his name."
It could be a long day for Walker. He has two additional stops in South Carolina, a drive back to Atlanta, and an evening appearance there. On Thursday, Walker heads to New Hampshire before starting a three-day tour of Iowa on Friday.
Before it's here, it's on the Bloomberg Terminal.
LEARN MORE