Marco Rubio, Scott Walker Say Next President Must Unwind Iran Nuclear Deal
Republican presidential candidates rush to condemn the agreement.
by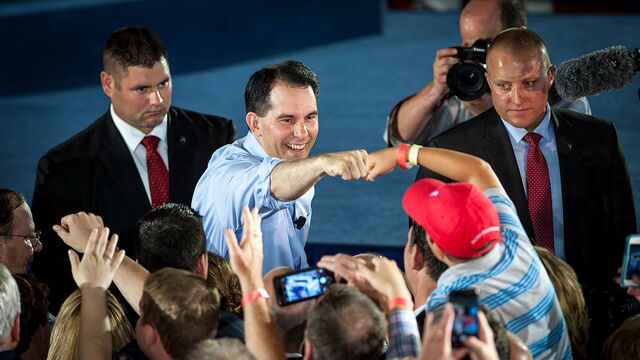 Republican presidential candidates rushed to condemn the nuclear agreement between Iran and world powers reached Tuesday, with Senator Marco Rubio of Florida and Governor Scott Walker of Wisconsin saying it will fall to the next commander-in-chief to renew a tough U.S. stance.
"I expect that a significant majority in Congress will share my skepticism of this agreement and vote it down," said Rubio, who sits on the Senate Foreign Relations Committee, in a statement. "Failure by the President to obtain congressional support will tell the Iranians and the world that this is Barack Obama's deal, not an agreement with lasting support from the United States. It will then be left to the next President to return us to a position of American strength and re-impose sanctions on this despicable regime until it is truly willing to abandon its nuclear ambitions and is no longer a threat to international security."
Walker, who formally joined the race on Monday, called on congressional leaders and his election rivals, including Democratic former Secretary of State Hillary Clinton, "to repudiate this agreement."
"Iran's Supreme Leader should know that a future American president will not be bound by this diplomatic retreat," Walker said in a statement. "Undoing the damage caused by this deal won't be easy. But when the United States leads, and has a president who isn't eager to embrace Iran, the world will follow. In order to ensure the safety of America and our allies, the next president must restore bipartisan and international opposition to Iran's nuclear program while standing with our allies to roll back Iran's destructive influence across the Middle East."
Calls for public pressure
In a statement, Texas Senator Ted Cruz did not say what he thinks the next president should do, but he urged the public to campaign against the deal during the congressional review period.
"Thankfully, it is not a done deal," Cruz said. "We still have an opportunity to tell the truth about what [Israeli] Prime Minister Netanyahu called today a 'bad mistake of historic proportion.' Congress will have 60 days to review it, and the American people will have 60 days to tell their elected representatives just what they think of it. I urge all my fellow citizens to speak out and let their elected leaders know that even if President Obama won't see it, we know the leaders of the Islamic Republic who lead crowds in chants of 'Death to America' and 'Death to Israel' are not our partners in peace, and must not be put on the path to a nuclear bomb."
Former Texas Governor Rick Perry also called for action during the review period, and said he would seek to roll back the deal as president.
"I will do everything in my power to work with the Senate to oppose this deal, including reaching out to Democratic senators," he said in a statement. "As President, one of my first official acts will be to fully rescind this accord. I will order a review of Iran's compliance with the deal, and an evaluation of Iran's continued sponsorship of terror over the timeframe of the agreement. I will move to ensure that the arms embargo—and, specifically, the ballistic missile embargo—remain in place until Iran verifiably demonstrates that it desires to act as a stabilizing force in the region."
Former Hewlett-Packard CEO Carly Fiorina said she would call Supreme Leader Ayatollah Khamenei of Iran "on day one in the Oval Office."
Her message, she told BuzzFeed, would be: "Unless you're prepared to open every nuclear facility and every military facility, anytime, anywhere inspections—not 20 days notice, not all this stuff apparently we agreed to—we're going to make it as hard as possible for you to move money around the global financial system."
She said that she would encourage Congress to reject the deal, but that much of the world will begin implementing the deal's provisions, making any potential rejection by a future president difficult to sustain.
South Carolina Senator Lindsey Graham, one of the most outspoken critics of the agreement, said that if Clinton supports it, "I think she's made herself dangerously naive." Speaking on Capitol Hill Tuesday, Clinton said the agreement is an "important step" in putting the lid on Iran's nuclear program.
John McCormick contributed to this report.
Before it's here, it's on the Bloomberg Terminal.
LEARN MORE