Donald Trump Might Well Beat El Chapo in Fox News Debate
The candidate's potentially perilous yet politically advantageous sparring with El Chapo reminds us of a favorite scene in a favorite movie, "The In-Laws."
by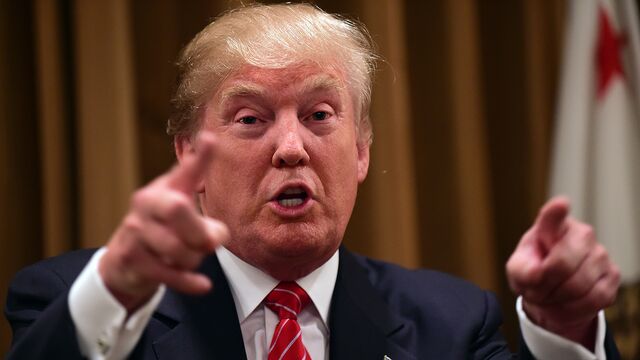 This is an excerpt from Bloomberg's daily Opening Line column.
A glib columnist—imagine that—would point out that El Chapo, or whoever is claiming to tweet on his behalf, did Donald Trump a huge favor.
It's true, of course. But we wouldn't want to appear insensitive to the possible, er, downsides of having a powerful criminal syndicate mad at you, even if you're the great Donald Trump.
One day after Trump tweeted that Trump (he referred to himself in the third person) "would kick his ass"—meaning the ass of El Chapo, aka Joaquin Guzman, the drug kingpin whom Mexican prisons cannot hold—a Twitter account "reportedly run" by Guzman's son vowed to make Trump eat his words. 
Trump asked the FBI to look into the threat, ABC News reports.
Trump's potentially perilous yet politically advantageous sparring with El Chapo reminds us of a favorite scene in a favorite movie, "The In-Laws," when the CIA agent played by Peter Falk talks up the agency to a civilian: 
"Are you interested in joining? The benefits are terrific. The trick is not to get killed. That's really the key to the benefit program." 
It's also probably the key to winning news cycles by antagonizing an escaped narcoterrorist.
Can you imagine Scott Walker yesterday? Just as he's about to join the packed Republican presidential field, he finds out that Trump, the amateur politician hot on his heels in the polls, is in a mano-a-mano debate with the Western Hemisphere's most wanted man.
Heck, assuming this works to Trump's advantage, how long do you think it'll be before George Pataki takes on Bernie Madoff, or Lindsey Graham picks a fight with this guy?
Mexicans and Mexican-Americans who are genuinely outraged at Trump's comments about rapists and corruption must be despondent at the mere prospect that Guzman, of all people, is the person now firing back. (The Guardian reports that Mexican officials aren't sure whether the Twitter account is for real.)
Trump, of course, is tickled.
"The joke around town," he tweeted yesterday, "is that I freed El Chapo from the Mexican prison because the timing was so good."
Before it's here, it's on the Bloomberg Terminal.
LEARN MORE