After Lunch With Hillary Clinton, Bernie Sanders Outlines Differences With Her
The Vermont senator called out Clinton on issues ranging from the Keystone XL pipeline and the Trans-Pacific Partnership.
by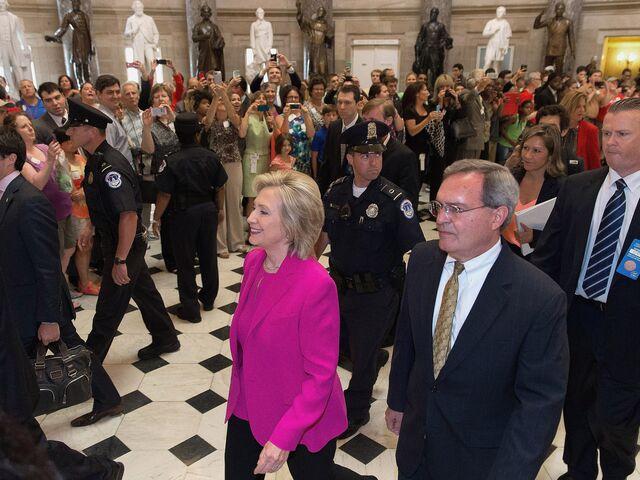 It was a lunch between frenemies. 
Vermont Senator Bernie Sanders left a Democratic lunch meeting on Capitol Hill Tuesday attended by rival presidential candidate Hillary Clinton and promptly explained to reporters why he believes he's a superior candidate.
"There are differences of opinion that we have which should be the basis for a serious discussion," the self-described socialist said. "I look forward to an issues-oriented debate with Secretary Clinton."
Sanders said he has "strongly opposed disastrous trade agreements" like the pending Trans-Pacific Partnership. "Secretary Clinton has a different view," he added before moving on to the war in Iraq. "Secretary Clinton, as a senator, voted for it." He also mentioned his opposition to the Patriot Act (which Clinton voted for) and his strong opposition to the Keystone XL pipeline due to "concerns about climate change." On that issue, "Secretary Clinton has not voiced an opinion," Sanders said.
He said the former secretary of state has been "unclear" about whether to raise the federal minimum wage to $15 per hour, pour $1 trillion into infrastructure spending, make public colleges tuition-free—he restated his support for each of those proposals. He added that she appears to oppose reinstating the Glass-Steagall Act, another of his top priorities. 
Clinton maintains a commanding lead in Democratic primary polls, but Sanders has enjoyed a surge lately, attracting massive crowds of progressives enthusiastic about his calls for a political revolution. He's currently a distant second place, trailing by nearly 50 points in the RealClearPolitics average.
Inside the Senate Democratic meeting—which came after Clinton held closed-door meetings with House Democrats—the former senator "gave Bernie praise for carrying the Democratic flag high, with a lot of excited supporters—some comment like that right off the bat," said Senator Tim Kaine of Virginia.
She talked up the need to increase economic opportunity and fight climate change, among other things, lawmakers said.
"She was fantastic," said Senator Chris Murphy of Connecticut. "She hit home run after home run."
At least a hundred journalists waited for Clinton outside the Senate lunch, as did a group of Senate pages who lined up in height order, poised for a pre-arranged photo with her. She smiled for a few flashes and then wished them a good summer on Capitol Hill. Reporters shouted a few questions, aware she almost certainly wouldn't answer. 
As for Clinton's take on the lunch that included her the man posing the strongest challenge to the nomination so far, the former secretary of state showed no outward signs of concern. 
"It was great," Clinton said. 
—Kathleen Miller and Jennifer Epstein contributed reporting to this story.
Before it's here, it's on the Bloomberg Terminal.
LEARN MORE