Donald Trump's Beloved Golf Empire Reeling as Marquee Events Canceled
Mason Levinson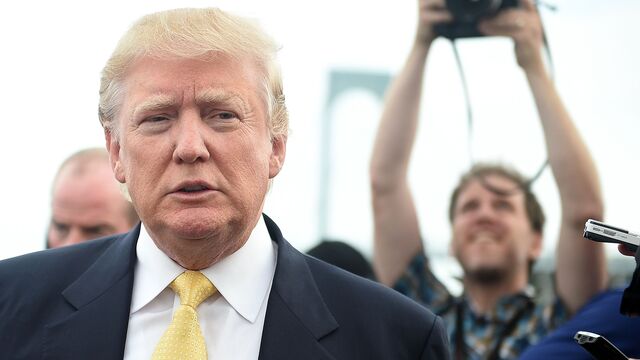 Donald Trump's position as one of the most powerful people in the golf industry is taking a hit.
Reacting to Trump's comment that Mexican immigrants were rapists, the PGA of America won't hold October's Grand Slam of Golf at Trump National in Los Angeles, one of his 17 courses. The LPGA suggested it would have moved the Women's British Open, which begins July 30, from Trump Turnberry Resort in Scotland if it had more time. And singer Ricky Martin canceled his annual foundation outing at a Trump-licensed course in Puerto Rico, which filed for bankruptcy protection Monday after longtime problems.
Trump, an avid golfer who is seeking the Republican presidential nomination, also faces the risk that weekend hackers to Wall Street executives to CEOs may shy away from playing at his courses on principle or to protect their image, according to industry analysts.
"He may have, in fact, done some real economic damage to the Donald Trump golf franchise," said Casey Alexander, an analyst at Gilford Securities. "There's a very politically correct world out there that says that they cannot be associated in any way, shape or form with that ideology."
Trump assistant Amanda Miller and Hope Hicks, a spokeswoman for Donaldjtrump.com, his presidential site, didn't respond to e-mails seeking comment. Amid the fallout from his Mexican remarks, Trump has moved atop some national polls on the Republican field.
The 69-year-old billionaire has invested millions of dollars into golf over the years, developing high-end, immaculate course layouts designed by architects such as Tom Fazio and Pete Dye. The 2017 Women's U.S. Open and the 2022 PGA Championship are still scheduled to be held at the Fazio-designed Trump National Bedminster in New Jersey.
Second Most-Powerful
Golf Inc., an industry magazine, last year named him golf's second most-powerful person behind Eric Affeldt, chief executive officer of ClubCorp Holdings Inc., the largest owner of U.S. private golf and country clubs.
"He really loves everything about golf, so really over the last 10 years our mantra has been, 'Let's go get the best courses in the world,'" said son Eric Trump, executive vice president of development and acquisitions for the Trump Organization.
Trump's golf troubles come on top of previously announced severed relationships with companies including NBCUniversal, Nascar, Univision Holdings Inc. and Macy's Inc.
While downplaying those corporate moves, Trump was quoted in an interview earlier this month with the Golf Channel that he's received "tremendous support" from those in the golf world because "they all know I'm right."
Joint Statement
That was quickly disputed by the sport's organizing bodies, which issued a joint statement saying Trump's negative comments didn't reflect their views.
Phil Mickelson, the five-time major champion, said last week before the Scottish Open that the golf community is both disappointed by Trump's comments and appreciative of his investments. The Scottish Open is scheduled to be held at Aberdeen's Trump International Golf Links in 2017, 2019 and 2020.
"It puts everybody in an awkward situation," Mickelson said.
That includes some golfers who, having spent hundreds of thousands of dollars in initiation fees, might consider teeing up elsewhere, according to Jason Maloni, senior vice president at public relations firm Levick LLC.
"I do think a couple of CEOs are considering whether their personal interests do not align with Trump and how that could sit with them and affect their own public profile," Maloni said. "I'm sure we've not heard the last of people who are distancing themselves."
Bad Business?
Alexander agreed Trump National members also might begin to wonder if hobnobbing with the club owner is bad for business.
"Can a captain of industry be caught hanging around with Donald Trump right now? I think not, and that's a problem," Alexander said. "Let's face it, in the position they're in, political correctness is not a convenience, it's a necessity."
Trump's golf business has a lot riding on his brand. Ten of his 17 courses have "Trump National" in their names. A document he released on June 16 shows that golf facilities and related real estate comprise about $2 billion of his $8.7 billion net worth. A Bloomberg assessment puts the value of his courses and resorts at $450 million.
"There are very few true brands in the golf industry and the one brand that's synonymous with quality, high-end, attention to detail, high service, is the Trump brand," said Steve Ekovich, vice president of investments at Marcus & Millichap Inc.'s National Golf & Resort Properties Group.
Revived Course
As one example of his successful club management, Trump revived a money-losing course he had bought from Marriott International Inc.'s Ritz-Carlton in Jupiter, Florida, adding a banquet center and improving conditions, said Ekovich.
Another turnaround Trump can take credit for is Doral Resort & Spa, home of the famed Blue Monster course and site of the U.S. PGA Tour's World Golf Championships-Cadillac Championship, which he bought out of bankruptcy for $150 million in 2011. He also developed and is managing Trump Golf Links at Ferry Point, the New York City-owned public course that opened in April, almost two decades after it was envisioned.
In Puerto Rico, he had less success with a course to which he licensed his name in 2008. The Trump International Golf Club filed for bankruptcy with $78 million in debt and assets of $9.2 million. The property, Trump's only such licensing deal, has had financial troubles for several years because of the island's "difficult business climate," said Eric Trump.
Golfing Decline
Still, Trump's golf investments have worked out even though the sport is contracting. About one million golfers have put their clubs away since 2009. From 2006 to 2013, the number of golf courses declined by 643, according to National Golf Foundation statistics.
Whether the tarnishing of his brand will influence "very high-level people" remains to be seen, analyst Alexander said. "I don't think that chapter's been written yet," he said.
CORRECTION: In an earlier version of this story, the online sub-headline incorrectly described the LPGA's reaction to Trump's comments.
Before it's here, it's on the Bloomberg Terminal.
LEARN MORE