Scott Walker Kicks Off Presidential Campaign Touting Outsider Status
The Wisconsin governor pitched himself as a reformer who will protect the nation from terrorist threats.
by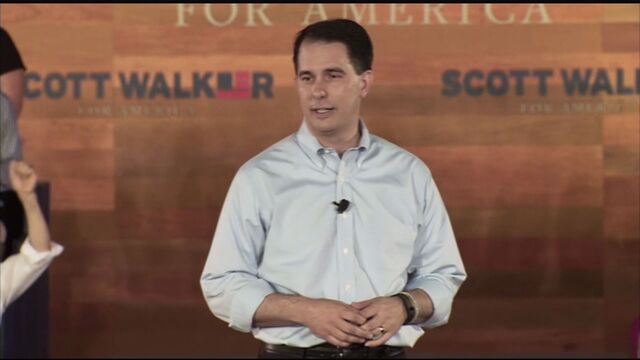 Calling for "fresh leadership" and "big, bold ideas from outside of Washington," Governor Scott Walker formally announced his Republican presidential bid Monday on a suburban Milwaukee stage where he highlighted his legislative wins in Wisconsin and desire for more power to be returned to the local and state level.  
The second-term governor, who rose to national prominence by challenging organized labor's clout, became the 15th Republican to officially unveil a White House campaign.
"We have a government in Washington that just can't seem to get the job done," Walker said, speaking without a teleprompter, suit coat or necktie. "The good news is, it's not too late. We can turn things around."
Walker, 47, spoke from the Waukesha County Expo Center, the same venue where he celebrated a June 2012 victory as the first U.S. governor to survive a recall election, after successfully confronting organized labor the previous year. The reliably Republican county is near Walker's home and represents the heart of his political base in Wisconsin.
Also on Bloomberg Politics: Scott Walker Exudes Confidence in Campaign Kickoff
The wins he recorded in 2011 and 2012 over organized labor provide the foundation for Walker's campaign against rival top-tier candidates such as former Florida Governor Jeb Bush and Senator Marco Rubio of Florida.
Often labeled by Democrats as America's most divisive governor, Walker's biggest and boldest political action came in 2011 when he won the right to restrict collective bargaining for most public workers in Wisconsin, instantly making him a villain to the labor movement and hero to many conservatives.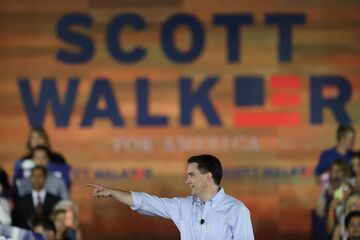 Still, Walker didn't dwell on his labor victories, as he often does in speeches. His prepared script used the words "union" or "labor" just once. "Since I've been governor, we took on the unions and won," Walker said.
Walker didn't single out Bush by name, but he did mention an issue where the former governor is vulnerable with conservatives: his support of national educational standards.
"Those standards should be set at the local level," Walker said. "No Common Core.  No nation-wide school board." 
Walker said he'd push for power and money from Washington to be sent back to the states, where he argued it would be more effective, more efficient and more accountable to the people.
As he has in recent weeks, Walker sought to sell himself as someone who has delivered results, contrasting himself with Republicans in Congress who have been part of an institution best known for gridlock on recent years. "My record shows that I know how to fight and win.  Now, more than ever, America needs a president who will fight and win for America," he said.
After traveling the country ahead of his announcement, Walker said he's heard from people tired of politicians only saying what they're against.
"I'm for transferring power from Washington into the hands of hard-working taxpayers," he said. "I'm for building a better economy that allows everyone to live their piece of the American Dream."
During the next six days, Walker will undertake an aggressive travel schedule to five states, including the early caucus and primary states of Nevada, South Carolina, New Hampshire, and Iowa.
He plans to fly commercially for the full journey as he seeks to emphasize his regular-guy persona and save some campaign cash. In four of the states, he'll hold events at motorcycle dealerships, highlighting his love of Wisconsin-made Harley Davidson motorcycles.
Following his announcement, Walker is also expected to ramp up his fundraising. Groups backing his candidacy (Our American Revival, Unintimidated PAC and Friends of Scott Walker) are expected to report between $25 and $30 million through the end of June, combined, according to a source familiar with his fundraising who wasn't authorized to discuss it publicly.
Before it's here, it's on the Bloomberg Terminal.
LEARN MORE