Santorum Jumps to Right of Cruz, Walker on Same-Sex Marriage Constitutional Amendment
He calls for a national standard, rather than an amendment allowing each state to decide for itself.
by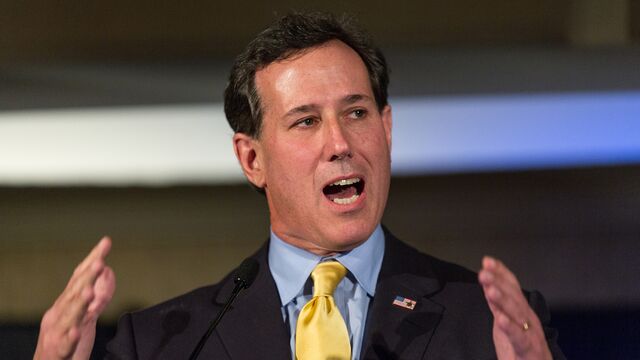 Republican presidential candidate Rick Santorum said Monday he wants a constitutional amendment that defines marriage as between a man and a woman in all 50 states, less than three weeks after the Supreme Court legalized same-sex marriage nationwide.
"I believe we need a national standard for marriage. I don't think we can have a standard from one state to another on what marriage is," Santorum told reporters at a breakfast in Washington hosted by the Christian Science Monitor, adding that he wants "to define marriage the way it was defined for 4,000 years of human history."
The remarks put Santorum to the right of rivals such as Texas Senator Ted Cruz and Wisconsin Governor Scott Walker, who are pushing a different kind of constitutional amendment that would allow states to decide whether to allow or ban same-sex marriage, rather than an amendment that would set a national standard.
"I think that's a mistake," Santorum said of their positions. "I argued that 10 years ago when others wanted to do that 10 years ago. You can't have a hodgepodge of marriage...it just creates too much confusion out there on a variety of different levels."
Santorum, a former Pennsylvania senator who won the 2012 Iowa caucuses and finished the primary as runner-up to nominee Mitt Romney, is competing with a crowded field of 2016 candidates and has so far struggled to gain traction. His decision to take the most far-reaching position on same-sex marriage, which a majority of Americans now support, could help him court evangelical Christian voters.
Before it's here, it's on the Bloomberg Terminal.
LEARN MORE