Jeb Bush Fires Back at Hillary Clinton
The Republican presidential contender tells an Iowa crowd that his Democratic rival "has it wrong."
by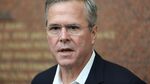 Hours after Democratic presidential candidate Hillary Clinton called him out by name over his economic policies, Jeb Bush fired back.
At Morningside College in Sioux City Iowa, where he was beginning a two-day swing through the state, the Republican presidential contender returned Clinton's mocking reference to his call for Americans to work "longer hours." Like most members of her party, Clinton interpreted Bush's comments as a slight against American workers. "He must not have met very many American workers," she said. "Let him tell that to the nurse who stands on her feet all day or the trucker who drives all night. Let him tell that to the fast food workers marching in the streets for better pay. They don't need a lecture, they need a raise."
Bush has said he meant something completely different.
"The main candidate on the other side believes that somehow it doesn't matter that 6.5 million people are working part time that want to work full time," he told about a crowd of about 150. "Mrs. Clinton just has it wrong."
Like many other Republicans, Bush took aim at President Barack Obama's health care law, which requires employers with large workforces to provide health insurance coverage for their employees. Obama's critics say that has motivated some to cut employees hours so they can avoid the mandate. Without the president's plan "A lot more people would be working 40 hours a week 
His rapid response to Clinton notwithstanding, Bush told his Iowa audience he is for a campaign of "hugging and kissing," prompting an audience member in a stovepipe hat to lean in for a hug for the former governor. He also presented Bush with flowers.
Before it's here, it's on the Bloomberg Terminal.
LEARN MORE