Fact-Checking Hillary Clinton's Economic Attacks on Top Republican Rivals
Is she targeting the three Republicans she sees as most likely to succeed in winning the party's nomination?
by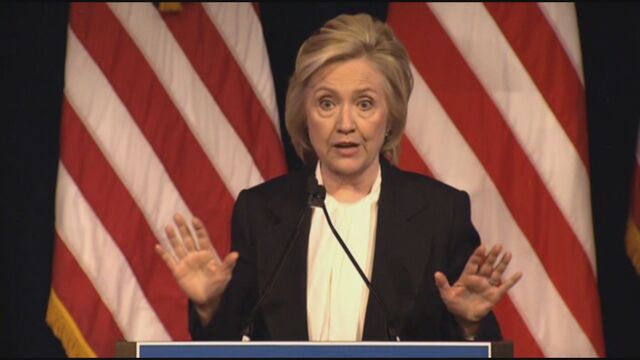 Hillary Clinton launched direct attacks on three of her top Republican rivals Monday in the first major economic speech of her presidential campaign, setting the table for what will be the defining policy debate of the 2016 election.
Here's what she said during the address at the New School in New York City, and how her claims stack up to the facts.
Jeb Bush
Clinton took a pointed shot at the former Florida governor's eyebrow-raising remarks last week to the New Hampshire Union Leader that "people need to work longer hours" in order to boost their income.
"He must not have met very many American workers," the Democratic front-runner said, adding that "they don't need a lecture, they need a raise."
Clinton and Bush have already tussled over his comment, which Democrats jumped on to paint the ex-governor as an out-of-touch elitist, pointing out that Americans work longer hours than almost all of the developed world. Bush's quote seemed open to that interpretation, but he prefaced it by saying "[w]orkforce participation has to rise," suggesting he meant too few people work full-time. He labeled the attack an "out-of-context" reading, saying he wants people who are involuntarily stuck in part-time jobs to have opportunities to work full-time.
Bernie Sanders, a fellow Democratic presidential candidate who also criticized Bush, said last week on CNN: "If he is talking about the need for more full-time jobs rather than part-time jobs, he's absolutely right, that's what we have to do."
Marco Rubio
"Senator Rubio's [plan] would cut taxes for households making around $3 million a year by almost $240,000, which is way more than three times the earnings of a typical family," Clinton said. "Well, that's a sure budget-busting giveaway to the super wealthy, and that's the kind of bad economics you're likely to hear from any of the candidates on the other side."
The basis of Clinton's criticism is an analysis by the Tax Policy Center, a joint project of the Urban Institute and the Brookings Institution, of a proposal by Utah Senator Mike Lee. Rubio, the junior senator from Florida, has since joined Lee as a partner. "Those in the top 0.1 percent, who make $3.3 million and up, would be in line for an average tax cut of $240,000—a boost in after-tax income of 3.8 percent," TPC found.
In other words, it's not necessarily true that those in the lower end of that group—"around $3 million"—would get a tax break of as much as $240,000. Clinton's campaign website describes it more accurately by saying: "Senator Rubio's plan would cut taxes for households making above $3 million a year by almost $240,000" (emphasis added).
That said, Rubio's overall tax break for upper earners could be much bigger than Clinton described, depending on a household's mix of capital and wage income. A newer version of the Rubio-Lee plan eliminates all capital gains and dividend taxation. According to the Tax Foundation, another, more right-leaning think tank, the top 1 percent would have an average increase in after-tax income (another way of saying tax cut) of 11.5 percent.
Scott Walker
"Republican governors like Scott Walker," Clinton said, "have made their names stomping on workers' rights, and practically all the Republican candidates hope to do the same as president. I will fight back against these mean-spirited, misguided attacks."
Heated political rhetoric aside, there's not much to fact check here. Her underlying premise is correct that the Wisconsin governor's ticket to stardom on the right was taking on public sector unions, most notably by ending their collective bargaining rights. It has been a defining feature of Walker's tenure, leading to a failed recall election against him, and it is a fight he is touting as a selling point to Republican voters.
As to Clinton's other assertion, Republicans won't like her framing, but their party is unabashedly aligned against unions that seek to bolster workers' clout against their employers. Richard Trumka, the president of the large labor union AFL-CIO, on Monday labeled Walker a "national disgrace," an attack that one Republican operative said was a "badge of honor."
—Richard Rubin contributed to this report.
Before it's here, it's on the Bloomberg Terminal.
LEARN MORE