Behind Hillary Clinton's High Praise for a Republican Wall Street Guru
Terry Duffy, whom Hillary Clinton quoted in her economics speech Monday, is a futures exchange operator and, yes, a registered Republican. But he's been on Team Hillary since at least 2008.
by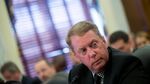 In Hillary Rodham Clinton's speech Monday morning at the New School, the first major address of her 2016 presidential campaign to focus on the economy, she spoke for middle-class workers and against trickle-down policies. Clinton's aides had previously indicated that the focus would not be on Wall Street and the need to regulate the financial industry—she may be feeling the effects of Bernie Sanders's momentum, but she has not suddenly become him—and yet some among the liberal wing of the Democratic party might have found themselves surprised by a suggestion concerning Terrence Duffy, the executive chairman and president of futures market operator CME group and a registered Republican.
Clinton said, "We should listen to Terry Duffy."
In her address on lifting wages, Clinton cited an op-ed Duffy published two years ago in the Wall Street Journal that, she said, "really caught my attention. He wrote, and I quote: 'I'm concerned that those of us in financial services have forgotten who we serve—and that the public knows it… Some Wall Streeters can too easily slip into regarding their work as a kind of money-making game divorced from the concerns of Main Street.'"
Duffy's op-ed centered on the diminishing numbers of Ivy-League graduates entering financial firms. He said:
In 2008, Harvard sent 28% of its graduating class to firms where they would become bankers, traders or investors. By 2010, Harvard was sending just 17% of its graduating class. Yale graduates entering the finance business fell to 14% from 26% during the same period. Even Princeton, traditionally the most finance-friendly school, fell to 35.5% from 40%. 
Wall Street was losing young peoples' trust. It had to show talented minds "what makes people tick," had to show them the value of the wealth sector. Duffy concluded, "We have to make the case to young people that if you want a remarkable career at a company with integrity that helps people and influences the world, then come to Wall Street."
Of all the ways for a politician to underline the importance of remembering and honoring the people you serve, quoting Duffy's op-ed was a peculiar one. But a look at Clinton's relationship with Duffy, who made $6.7 million last year, might explain why.
Duffy may be a registered Republican, but he is a Clinton supporter as well. He endorsed Clinton in her 2008 run, saying, "We need a president like Hillary Clinton who understands the important role that financial markets play in our global economy." He added, "Like no other candidate, Hillary Clinton crosses party lines to combine the visionary leadership and pragmatic problem-solving skills that this country needs in its President." He gave the maximum contribution of $4,600 to her 2008 campaign.
Duffy declined comment for this article, though Anita Liskey, the managing director of communications at CME, confirmed his current party registration. She told me, of Duffy's relationship with Clinton, "He knows her well and he's obviously pleased that she mentioned his piece."
E-mails released last week by the State Department show evidence of this relationship, as Bloomberg's Jennifer Epstein and Ben Brody have detailed. Duffy asked Clinton to stop by a dinner he was hosting for "150 or so folks from the exchange," and she in turn asked an aide to help find a moment for Duffy's group to visit the State Department. He was the conduit through which Senator Lindsey Graham, a Republican rival in the presidential race, sent greetings.
Their e-mails have taken a more personal tone, as well. In May 2009, as Bloomberg's Zachary Mider reported, Duffy e-mailed Clinton to invite her to a company event, and added, "You're doing an incredible job." In September came another invitation—and additional words of praise. "Once again," he wrote, "you're doing an amazing job." She responded this time that she would try hard to be there, and later apologized for the delay. "I've been hip deep in the rollout of the Afghanistan strategy," Clinton said, "I hope you, your family, and the futures markets are all well!"
In 2010, when Duffy was being honored by the American Friends of Hebrew University, he asked Clinton to deliver the keynote (she was unable; the conservative columnist George Will did instead).
But in November 2013, Clinton traveled to the beachside Ritz-Carlton Resort of Naples, Florida, to deliver the keynote at the CME Group's Global Financial Leadership Conference—an annual event that Duffy has called the "Davos of Derivatives." 
The group featured some highlights of Clinton's appearance that day, for which she was paid, alongside men like former U.K. Prime Minister Gordon Brown, former Commodities Futures Trading Commission Chairman Gary Gensler, former Governor of the Central Bank of Cyprus Athanasios Orphanides, former members of the European Central Bank executive board Lorenzo Bini Smaghi and Jurgen Stark.
OpenMarkets, the company's online magazine, shows a picture of Duffy and Clinton side by side onstage. The caption reads, "CME Group Executive Chairman and President Terry Duffy leads a Q&A with Former Secretary of State Hillary Clinton about America's economic and political challenges."
Before it's here, it's on the Bloomberg Terminal.
LEARN MORE