A Tonal Shift in the Long Hot Summer of Trump
In Phoenix, the candidate softens his immigration rhetoric and ramps it up against the media and his corporate adversaries.
by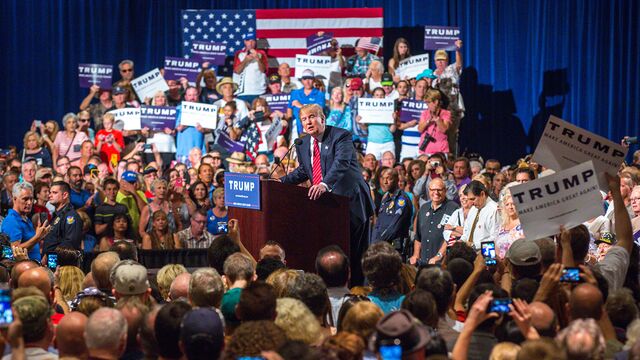 Near the front of the line that had started forming at 4:45 a.m. in Phoenix on Saturday for the Donald Trump rally that was supposed to start at 2 p.m., a man was screaming at a pregnant lady he accused of cutting in front of him: "Don't give me that feminist bull----!" he cried, irrational in the 105-degree heat.
So why had thousands of people been standing outside the downtown convention center for hours? Because Trump, who has placed near the top in recent national Republican primary polls, "says it like it is" on immigration and more, according to Jan Drake of Sun City West, Arizona, who swears she'd vote for him as third-party candidate if the Republicans don't have sense enough to nominate him.
"Because we just like him, obviously," added her 94-year-old neighbor, Clela Wanamaker, who like Drake was dressed in the gauze flag dress she usually wears to Tea Party functions. And "because he doesn't try to be politically correct,'' said Diane Lee of Anthem, Arizona, who fanned me as she spoke. Lee definitely does not want to see Trump become another Ross Perot, for whom she voted as a third-party candidate in 1992. She now sees that as a mistake that only helped elect Bill Clinton. Still, she does see Trump as the best option her party has.
"I went to the University of Mississippi," Lee went on, "and we had the rebel flag, and I never considered it to be against slaves; I considered it to be a South thing." These days, alas, "the minority is dictating what they want done," but President Trump would put an end to that, pronto, she said. "Our country was founded on immigration, but I'm worried about the bad illegals."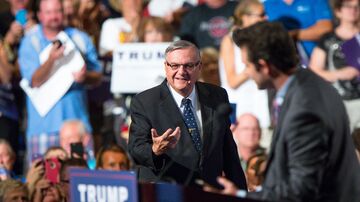 So, of course, is one of the guest speakers at the Trump rally, six-term Maricopa County Sheriff Joe Arpaio, who in 2013 was found by a federal judge to have violated the constitutional rights of Latinos. He made national news, too, in claiming President Barack Obama wasn't born in the U.S. and insisting that Obama's Hawaiian birth certificate is a fake.
Several prominent Arizona Republicans had distanced themselves from Trump—Senator Jeff Flake had tried to talk the local GOP out of hosting him—but Maricopa County GOP Chairman Tyler Bowyer ignored them, and introduced Arpaio as "the greatest lawman on Earth."
Though quite low-key at the microphone, the sheriff warmed up the crowd by noting that he and Trump share both a June 14 birthday and not a little skepticism about the president's provenance.
"I thought Donald would be on stage, but I'll make believe he's here," Arpaio said, and "I want to thank Mr. Trump for bringing the illegal immigration problem back to the forefront…He's getting a lot of heat, but you know, there's a silent majority out there" that agrees, he said to wild applause.
"I'm a big fan of Frank Sinatra," the sheriff said in closing, "and there's a song, my favorite song, that personifies Mr. Trump when it says, 'I will take the blows and do it my way.' "
"He's got balls!" someone in the audience yelled.
Yet having attracted the crowd—the fire marshal eventually closed the doors on the 4,200-capacity venue—with his harsh line on undocumented immigrants, Trump made an important tonal pivot in his 68-minute speech. With no more convincing to do, he didn't have to say yet again that "when Mexico sends its people, they're not sending their best; they're sending people that have lots of problems, and they're bringing those problems with them. They're bringing drugs. They're bringing crime. They're rapists." So, he didn't say that.
Instead, he said that what never gets reported is how much he loves documented immigrants, and indeed how much easier he wants to make it for people to come here from all over the world. "A lot of illegals are wonderful people," he said, but his comments to that effect have not been reported "because the press are liars; they're terrible people."
Thus, though not a professional politician, did the mogul and reality TV star pull off a classic having-it-both-ways maneuver, and show that his critics might be underestimating him still in writing him off as a buffoon, or as America's punishment for laughing at the Italians when they elected Berlusconi. "I told you I went to Wharton," he told the crowd. "I'm, like, a really smart person."
"This is absolutely unbelievable," Trump said by way of greeting the crowd, and not one of his critics would disagree with that. "The word is getting out that we have to stop illegal immigration."
But, "and I've only said this about 200 times, but it never gets reported; I love the Mexican people. Many people from Mexico work for me—thousands."
All he'd said about them, he said, is that "their leaders are much smarter, sharper, and more cunning, and they're killing us." On trade, he meant.
The number of people crossing the border illegally is actually down considerably, and immigrants are not responsible for any crime wave; in fact, a recent Washington Post story cited an academic study showing no correlation between immigration and violent crime, and numbers that indicate they're underrepresented in jails.
"They flow in like water," Trump claimed, but then said, "I love legal immigrants; my wife is a legal immigrant. She went through the whole process and it's not easy, and we should maybe make it easier and faster" for others to do the same.
None of the rest of the talk was new—and mostly, it was still a recitation of his updated blacklist, revised to include those who've recently severed ties over his comments on Mexico. And he explained to the crowd that he'd actually made money by being dropped by a bunch of people. ESPN? They were only renting one of his golf clubs for a day, so he'd pocketed their deposit and rented out the place for even more. NASCAR? Same story, only with a banquet hall. "I may make money running for president," he said.
NBC? They're really just mad at him for walking away from his show. ("They said, 'Please do The Apprentice, and I said, "I can't; I want to make America great again.")
There was one out-of-character moment in the talk, when Trump stopped bragging and said he was happy the show had done so well over the years because "I like to be loved; when I went on dates, if a woman dropped me, which happened often, I always liked to say, or even in my own mind, that I dropped her."
After that, though, he went back to his blacklist: Macy's? OK, that one hurt, but only because he'd thought he was friends with the guy who ended up dropping him. "Was, was, was" his friend, strictly in the past tense, he said, "because I don't forget things." Financially, "it wasn't a big deal. I was selling ties and they were from China!" But poor Macy's, he said, since "now thousands of people are cutting up their Macy's credit cards."
He also insulted Republican Senator John McCain of Arizona, who he said probably won't be in office too much longer, and his presidential rival John Kasich, the governor of Ohio: "Lehman Brothers almost took down the world, and he was a managing partner." Of his many competitors, though, he was most focused on former Florida Governor Jeb Bush, who he said can't stand up to the lobbyists and donors "who push him around like a piece of candy."
If  "Jeb Bush is president, ayayay," Trump said, whereas if he were president, he'd tell Ford they'd pay a heavy tariff on every car manufactured in Mexico, and "they'd say, 'Mr. President, we've decided to build the plant in Phoenix" instead.
"If you people go with Bush," he told the Republicans of Maricopa County, "you're going to lose."
He did seem to forget himself and concede the election when he said, "Hillary Clinton's going to be a horrible president," but then added, "if she even wins her own primary."
Some pushing and shoving broke out in the crowd after several protesters held up a big banner that said "Stop Hate."
"I wonder if the Mexican government sent them over here," Trump said as they were escorted outside, where a few dozen others were waving signs that said "Dump Trump!" and "Arizona rejects your racism." (And why had they come? "I don't know; my mom just told me to get in the car," said 20-year-old Cristhel Gonzalez. "I go to a lot of protests,'' said Randy Dinin, and "consider myself an anarchist.'' But he'd turned out this time, "because if you have someone like Donald Trump in the office of the president, supported by these people, you have the potential for a full-blown police state."
Both the protesters outside and the Republicans inside chanted "USA! USA!" at different times.
At several points in his speech, Trump noted that all of the wonderful things he's said about immigrants in the past have gone unreported because the press doesn't want the truth to get out: "They're terrible people," he said repeatedly—and each time he did, the crowd turned around, took pictures of the reporters and photographers standing behind them, and yelled things like, "Start reporting the truth!''
He did tell the crowd a couple of things it did not seem to want to hear; there was not a lot of applause, for instance, when he said, "I know this doesn't sound very conservative, but we've got to take care of everybody, not just the people up here," he said, holding his hand up high. But, then he said we have to build the military back up, and everybody started cheering again.
Trump also introduced the crowd to Jamiel Shaw, an African-American man from Los Angeles whose 17-year-old son was fatally shot by an undocumented gang member in 2008. "I thought somebody black did it," Shaw said, but no. He said was supporting Trump because when he saw him on television talking about saving the country, "for the first time in seven years, I felt hope, real hope."
Afterwards, one woman in the audience, Phyllis Zanichkowky of Scottsdale, said her top takeaway was that "it'll never get out that he wants to make it easier for immigrants. Because then he'd win the Latino vote."
In a brief question-and-answer session with reporters, one of the terrible, terrible types Trump had been complaining about asked why his own clothing was made in China rather than in America if bringing jobs home was such a priority. "I'm not president!" he said.
Then a reporter from the conservative outlet Breitbart told Trump that even though the protesters had held up that sign with the word "hate" on it, he couldn't help noticing that Trump's message was really all about love, wasn't that right? Sure, said the candidate.
He seemed to be inspiring more divisiveness than love and kindness, though, and after he walked away, another reporter couldn't resist clucking at Breitbart's man in Phoenix: "You just had to tee it right up for him, huh?"
"I know how the media plays, pal," said the Breitbarter—and how unfair most reporters are, he added, to which the other man replied that he knew a few things, too, since he works for the local NBC affiliate. "Well, I used to be with NBC national," said the other reporter, trumping him, really. At which point a cameraman interjected, "Hey, could we be nice to each other? He's gone now." But not for long.
Before it's here, it's on the Bloomberg Terminal.
LEARN MORE