Hillarynomics: Boosting Middle Class, Disciplining Wall Street
The Democratic presidential contender's campaign previews Monday's big economic policy speech.
by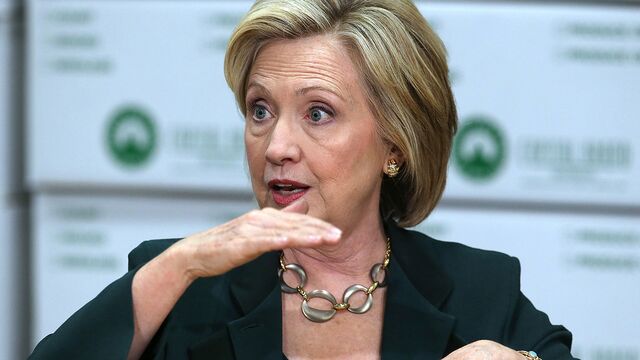 Hillary Clinton will embrace the Democratic Party's focus on shared prosperity for all Americans in a major speech on Monday laying out policies at the core of her second White House bid, arguing that the top economic priority for the next president must be to boost middle class wages.
Also on the to-do list are tighter rules on Wall Street, tax reform, more support for women and families, and a higher minimum wage, the front-runner for the 2016 Democratic presidential nomination will say during the first economic policy speech of her campaign. Clinton is scheduled to speak at the The New School, a university in New York City's Greenwich Village neighborhood known for encouraging progressive thought on economic and foreign policy.
Clinton plans to specifically critique the financial services industry on what she regards as bloated compensation levels and an obsession with short-term corporate profits, said a campaign official who agreed to preview Clinton's speech on the condition of anonymity.
But don't expect details on where she stands on reinstating the Glass-Steagall Act (the bank regulation law that Clinton's husband repealed) or how she intends to ensure that the CEOs and hedge fund managers she's derided from the stump pay what she considers their fair share of taxes. The specifics of Clinton's proposals, including how to pay for measures that would come at a cost to the federal government, will come later, to be rolled out through the rest of the summer and into the early fall.
Predecessors, Competitors
In her speech, Clinton will attempt to both associate herself  with and differentiate herself from the two immediate past Democratic presidents: her husband, Bill Clinton, who presided over the longest economic expansion in U.S. history, and her political rival-turned-boss, Barack Obama. While hailing their records, Clinton will argue that the economic task ahead of the next president is very different from theirs.
During Bill Clinton's administration, she will note, the Internet and globalization were not the pervasive factors in the economy that they are today; and Clinton will argue that Obama's energies were focused on keeping the country out of depression after a near economic meltdown in the months before he took office. She sees her challenge as managing what her campaign describes as "tectonic forces"—automation and globalization—that are squeezing the middle class.
"She's addressing the challenges of the economy in the moment we're in. It's not the economy of the '90s or even when she last ran for president," said Neera Tanden, a longtime Clinton policy adviser who is president of the Center for American Progress, a policy research group. "These are different times. These are different challenges. And she has different ideas."
Clinton also aims to distinguish herself from presidential hopefuls to her right and her left—in particular, former Florida Governor Jeb Bush and Vermont Senator Bernie Sanders, respectively. She will argue that setting an arbitrary goal for gross domestic product growth and hoping that the benefits trickle down to the middle class is the wrong approach, as is looking for ways to redistribute wealth without encouraging growth, the campaign official said.
The former secretary of state plans to call out Republicans for paying lip service to income inequality while pushing economic policies favored by their party since Ronald Reagan was president, the official said. In attacking candidates who want to specify GDP goals, Clinton is targeting Bush, who said in June he would usher in a decade of 4 percent annual U.S. growth.
"You can't just say, 'I'm all about growth' and maybe suggest cutting taxes for rich people to get there, " said Jared Bernstein, former chief economist to Vice President Joe Biden and now a senior fellow at the Center on Budget and Policy Priorities, in a jab at Bush and other Republicans. "You've got to say what you're going to do to close the gap between macroeconomic growth and middle class prosperity."
While there are "a lot of steps between here and there, and some of those steps need to go through Congress, which won't be easy," Bernstein, who was briefed on the speech by Clinton's team but has not aligned himself with any candidate, said he thinks Clinton is headed in the right direction. "What matters most to the electorate right now, to the extent that it's paying attention, is having an architecture that reconnects growth to middle class wages."
Clinton is not expected to be as direct in going after the other candidates vying for the Democratic presidential nomination, though she will say that it's not enough to simply find a more equitable way to divide the existing economic pie, and that measures to expand growth must be part of the equation. Sanders, Clinton's closest opponent or the Democratic nomination, according to the polls, is a self-identified socialist who wants to raise taxes on the rich, boost the minimum wage and make college education free.
Clinton's plan for jump-starting the economy is based on three goals: boosting workforce participation and increasing public-private investments; rewarding work more fairly; and encouraging long-term thinking and sustainable business strategies.
Each of those areas includes subsets of policies that she will outline on Monday and detail in the weeks to come.
The Goals
In the first category, Clinton will stress the need to make it easier for Americans—especially women—to enter, stay in and thrive in the workforce, and point to forthcoming policy announcements on child care, paid leave and paid sick days. Clinton will also repeat the calls she's already made for a mix of public and private sector forces to come together to create an infrastructure bank and to make the U.S. the global leader in clean energy. She will also say that she supports new ways of finding tax relief for small businesses.
"Good family policy is actually good economics," said Alan Krueger, economics professor at Princeton University and former chairman of Obama's Council of  Economic Advisers. "The idea to break down barriers to make it easier for more people to participate in the labor force is important."
Second, Clinton will urge that work be rewarded more fairly through policy changes on compensation and taxation. She will back raising the federal minimum wage and doing more to ensure pay equity for women, and also echo Obama's proposal to expand access to overtime pay. She will question why some types of work—specifically, financial trading—is rewarded much more than other work, such as manufacturing. Leaving the details for later, Clinton will also mention her plans for tax reform aimed at ensuring the wealthy are paying their fair share, as well as a proposal intended to encourage companies to offer profit sharing for rank-and-file workers, already previewed during a June speech.
Third, she will stress the need for more sustainable business practices over the focus on "quarterly capitalism," the campaign official said, by arguing that the obsession with meeting shareholders' expectations for profits prevents companies from making wise long-term decisions.
Clinton will cite Wall Street as the quintessential example of an industry where the focus on short-term profits ultimately proves detrimental to the broader economy.
But "it's not a jihadist speech against them," Tanden said. "It's not that people are doing crazy things that are evil. It's more like, they're not doing things that are helpful in the long term. There's a problem when the last thing a CEO wants to do is invest in their business and raise wages."
Clinton will also aim to shift incentives by reforming the tax code and creating new mechanisms for governing shareholder activism. As with her other proposals, she plans to fill in more details as the campaign unfolds.
In attacking unsustainable growth, Clinton aims to set up a clear contrast with Bush, the Republican whom her advisers still see as her most likely general election adversary. Florida's economy grew faster than the national average during Bush's eight years in governor, as housing and tourism boomed. But Democrats plan to point out that the prosperity was short-lived: after Bush left office in 2007, as the housing market and the broader economy tanked, so too did Florida's economy. 
The Advisers
In developing the speech and its underlying policy positions, Clinton and her aides consulted with more than 200 domestic policy experts over several months, the campaign official said. The process—which included hours-long meetings with the candidate herself—was led by senior policy advisers Jake Sullivan, Maya Harris, and Ann O'Leary. Also taking part was Gary Gensler, the campaign's chief financial officer and a former chairman of the Commodity Futures Trading Commission who has advocated for stricter rules for Wall Street.
Aware that the names of those advising the campaign on the economy will be interpreted as an indication of the deeper direction of its policy, the official offered a list of 10 people who are center-left and have few ties to the financial services industry. The group includes longtime Clinton advisers including Tanden, former Clinton and Obama National Economic director Gene Sperling, former Clinton Council of Economic Advisers chair Joseph Stiglitz, and Alan Blinder, who worked in the Clinton White House and served as Federal Reserve vice chairman from 1994 to 1996.
Two of Obama's former CEA chairs—Krueger and Berkeley professor Christina Romer—have both advised the campaign, as have New York University law professor David Kamin, Duke business professor Ronnie Chatterji, Yale political science professor Jacob Hacker and Heather Boushey, executive director and chief economist at the Washington Center for Equitable Growth, a think-tank that studies the impact of income inequality. 
One person omitted from the official's list, but who has been among the many economic experts consulted by the campaign, was Larry Summers, treasury secretary under Bill Clinton and National Economic Council director under Obama. While Summers once opposed tighter regulation of the financial markets, he now embraces "inclusive prosperity," allowing the many—and not just the few—to benefit from capitalism.
New School labor economist Teresa Ghilarducci, who's known for suggesting that the 401(k) retirement model be replaced with a government-run program, has also spoken with Clinton aides. 
Despite Sanders' rising poll numbers, Monday's speech is not expected to pander to the far left. "There aren't any dogwhistles about a labor-capital struggle," Ghilarducci said. "It's a very hardcore, post-World War 2 understanding of the modern economy, a full-throated defense that you can't have a healthy economy without investment by the public sector and by the private sector. They're complementary." 
Though her policy proposals aren't in the speech, Ghilarducci plans to arrive early for a front-row seat.
Before it's here, it's on the Bloomberg Terminal.
LEARN MORE