Trump's Arizona Speech on Illegal Immigration Could Attract Thousands
To the chagrin of some local Republicans, Trump may be speaking to a large crowd in Phoenix.
by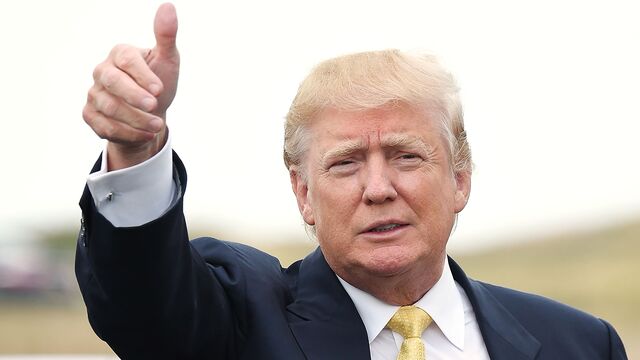 Donald Trump is still talking immigration. And, unlike some in the Republican establishment, Arizona supporters seem to love it.
A speech "on illegal immigration and numerous other topics" by the real estate mogul and Republican presidential candidate had to be moved from a hotel to the Phoenix convention center "to accommodate the thousands of people expected to attend" the Saturday event.
The rally, which will also feature the city's anti-immigration Sheriff Joe Arpaio, already had 3,500 committed attendees Thursday evening when the campaign announced the venue change, according to the Arizona Republic newspaper. Arpaio has faced condemnation for his hard-line rhetoric on immigration and has been found by a federal judge to have violated the civil rights of Latinos.
Trump has faced weeks of fallout since he said in his presidential campaign announcement that some Mexican immigrants are "rapists." He has repeatedly doubled down on the assertion since then—and seen his polling numbers rise to top positions—even as he has lost business contracts and faced denunciations from both Democrats and Republicans.
The possibility of a Republican presidential candidate continuing to attack immigrants and stoking backlash among the large group of Latino voters angered Arizona Senator Jeff Flake, who said Trump's views don't reflect those of his party, according to the Washington Post. An immigration-reform supporter, Flake also asked the Republican Party of Maricopa County, which includes Phoenix, to withdraw its sponsorship of Trump's event, the Post said. The party's chairman, Tyler Bowyer, said in a statement e-mailed by a spokesman that his organization "is thrilled to have the opportunity to bring many Republican presidential candidates to meet with the voters of Arizona." 
Arizona, a border state with a large immigrant population, has become an evolving case study on the subject. Arpaio's actions, along with those of former Governor Jan Brewer, who pushed through a tough anti-immigration law in 2010 only to have it struck down by the Supreme Court, have garnered nationwide attention. At the same time, the state's senators, Flake and John McCain, have supported immigration reform as Republican leaders worry about alienating Latino voters whom they hope to court, especially in 2016.
Trump's rhetoric was "offensive to not only Hispanic citizenry but other citizenry," McCain told MSNBC Thursday. "I guarantee you the overwhelming majority do not agree with his attitude that he has displayed towards our Hispanic citizens. We love them."
A spokesman for McCain also told Bloomberg that the senator and former Republican presidential nominee agreed with Flake's stance on the rally. 
Before it's here, it's on the Bloomberg Terminal.
LEARN MORE