The One Point on Which Bernie Sanders Agrees With Jeb Bush
Sanders told CNN that Bush was "right" about the need for more full-time jobs.
by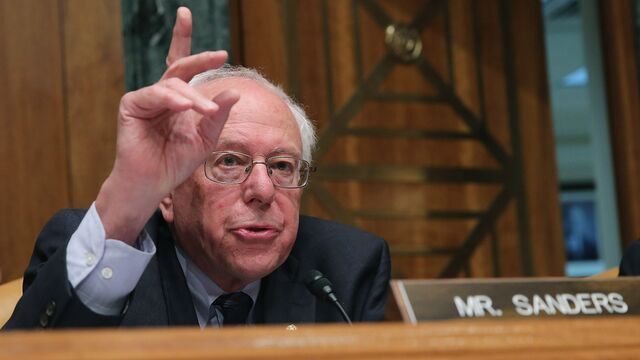 News flash: Democratic presidential candidate Bernie Sanders just said Republican presidential rival Jeb Bush is right about something. Sort of. 
One day after saying Bush "does not seem to understand what is happening in our economy today," Sanders, Vermont's democratic socialist senator, grudgingly acknowledged Friday that he may actually agree on at least one aspect of the former Florida governor's views. 
At issue: Bush's much-discussed interview with the New Hampshire Union Leader editorial board on Wednesday in which Bush said that improving the economy means "that people need to work longer hours and through their productivity gain more income for their families." 
On Friday, CNN's "New Day" host Chris Cuomo asked Sanders if he'd been unfair, given that Bush seemed to be talking about the need for more full-time jobs, as opposed to part-time work. 
"Of course we need full time jobs rather than part time jobs, but to suggest that people have gotta work harder..." Sanders said, adding that Americans work some of the longest hours of any major industrialized country. "So what we need to do is raise wages and income not force our people, who are already stressed out by long hours, to work even more hours."
Cuomo pushed him, and said that Sanders needed to be "consistent" if he wanted to stay above the board of dirty politics.
"Well if he is talking about the need for more full-time jobs rather than part-time jobs he's absolutely correct. That's what we have to do," Sanders said. 
In an earlier statement released after Bush's comment, Sanders said that "[u]nfortunately ... Gov. Bush does not seem to understand what is happening in our economy today." Hillary Clinton also criticized Bush in a tweet:
Bush pushed back on Thursday. "You can take it out of context all you want, but high sustained growth means people work 40 hours rather than 30 hours and that by our success they have disposable income for their families to decide how they want to spend it rather than standing in line and being dependent upon government," he said. 
Sanders was less willing to go after Hillary Clinton. Cuomo mentioned that Clinton has "trust issues"—specifically, a June CNN poll found that 57 percent of Americans don't consider her to be honest and trustworthy.
"Look, I have known Hillary Clinton for 25 years. I respect her. I like her," Sanders said. His criticism of her lies with her stances, or lack of stances, on issues like the Trans-Pacific Partnership and breaking up large financial institutions.  
The interview also touched on a new Politico profile, which reports that Sanders has a son born out of wedlock. Cuomo asked Sanders if he thinks he can continue to run his campaign without opening up more about his personal life. 
Sanders said he couldn't avoid it, but would rather focus on the issues, given the problems the country is facing. "I think it's incumbent on political leaders and media to focus on those issues and not make politics into a soap opera," he said.
Before it's here, it's on the Bloomberg Terminal.
LEARN MORE