Ryan Pushes for 6-Year Highway Bill, Rejects Shorter Senate Plan
Richard Rubin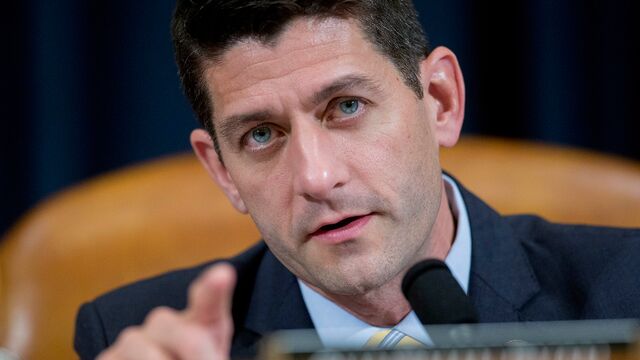 House Republicans want to pass a six-year highway funding bill in 2015, and they're prepared to reject a plan from Senate Republicans that would extend funding only past the 2016 election, said Ways and Means Chairman Paul Ryan.
Ryan, a Wisconsin Republican, told reporters Friday that he's still focused on pairing changes to the international tax system with a long-term highway bill this year.
"I don't think the House could do that," Ryan said of an 18- to 24-month extension of highway funding. "Our members want to do a long-term highway bill."
When asked about the Senate's strategy, Ryan said he and Senate Majority Leader Mitch McConnell have the same long-term goals and differ on whether significant changes to the U.S. tax code can be made this year.
A potential clash among Republicans will have to be resolved before the highway fund lapses July 31.
For the House, the first step will be an $8 billion patch to extend highway funding through the end of 2015. That will be released "very soon" and its cost will be covered by what Ryan called "fairly innocuous boring stuff" that he didn't detail.
Then, if that plan succeeds, the tougher work would begin: trying to pair international tax changes with highway funding, using a one-time tax on stockpiled foreign profits of U.S. companies to provide the money.
Obama, Schumer
That's an idea that has support from some Democrats, including President Barack Obama and New York Senator Charles Schumer.
Still, the details are complicated. Republicans have been working on international taxes since they took over the House in January 2011, with no committee votes to show for it.
Ryan says he has an increasing sense of urgency on moving forward on international taxation. The new system he envisions - - minimal taxes on U.S. companies' foreign income and possible breaks for high-tech domestic profits -- would prevent U.S. companies from inverting to take foreign addresses or being bought by foreign companies.
If Congress doesn't act, he said, "There won't be much of a corporate tax base left to reform."
Ryan said the discussion about international taxes will include dozens of miscellaneous tax breaks that expired at the end of 2014. They include the research and development credit and production tax credit for wind energy, which Ryan opposes.
"I'm not positive we're going to get it," Ryan said of his preferred plan on highways and international taxes. "But we are sure going to try."
Before it's here, it's on the Bloomberg Terminal.
LEARN MORE