Marco Rubio Calls Abortion Rights 'Indefensible'—and Knocks Down 'Pro-Abortion' Straw Man
by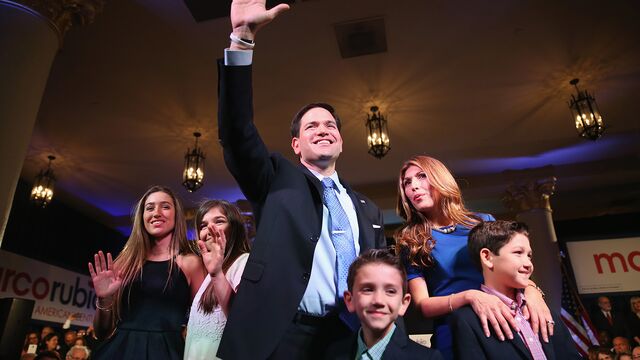 At the National Right to Life Convention on Friday, Florida Senator Marco Rubio touted his opposition to abortion rights, long a prerequisite for being a viable Republican presidential candidate.
Speaking to the crowd in New Orleans, he hit all the necessary notes — legal abortion is "the taking of innocent life on a massive scale"; Roe v. Wade was an "egregiously flawed Supreme Court decision"; the case for abortion rights is "indefensible."
If an embryo is "not a person, what is it? Because if you left it alone, that's the only thing it can become," he said. "It can't develop into a pony!" Though he didn't mention it in his speech, Rubio has supported three exceptions to making abortion illegal—in cases of rape, incest and if the mother's life is at stake.
Also notable was his message of respect for proponents of legal abortion, uncommon for a cause that has sparked ugly clashes and divisive rhetoric between the opposing sides for generations. He knocked down a straw man by some of the more aggressive opponents of the cause, namely the notion that its supporters want more abortions.
"You can judge a cause by the arguments made on both sides. For example, I rarely meet anyone who's willing to say they're pro-abortion," Rubio said. "They'll say they're pro-choice, but almost everyone I've met says that they personally disagree with abortion. That alone tells us a little about the basic common sense the issue is built on."
Rubio's appearance at the National Right to Life Convention came fresh off a three-day swing in Iowa packed with speeches, during which he didn't mention abortion. On Friday, he connected his abortion message to his overall pitch for the presidency—about reviving a disappearing American Dream. "And it is fundamentally impossible," he said, "for America to reach her destiny as a nation founded on the equal rights of all if our government believes an entire segment of the human population doesn't have a right to exist."
Before it's here, it's on the Bloomberg Terminal.
LEARN MORE