Joe Biden Celebrates at Gay Marriage Movement's 'Going Out of Business' Party
Vice President calls for expanding the fight to employee nondiscrimination.
by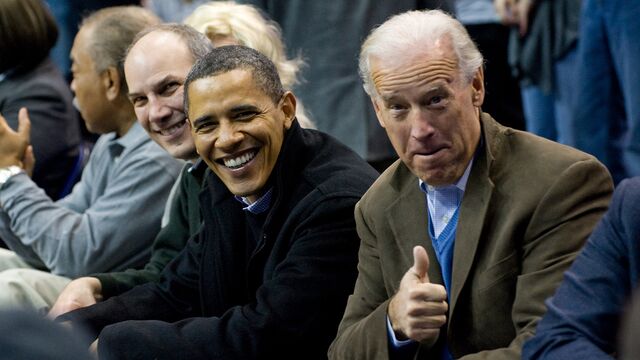 Vice President Joe Biden on Thursday joined the celebration of the Supreme Court's ruling legalizing same-sex marriage nationwide, saying he's "never been so happy to be with an outfit that's going out of business."
Biden, who's widely credited with precipitating President Barack Obama's public endorsement of equal marriage rights for all, told Freedom to Marry's New York gala that the activists who have worked for decades "don't owe me or the president any thanks. We owe you."
Coming two weeks after the high court's ruling, the party at Cipriani Wall Street restaurant marked the end of Freedom to Marry founder Evan Wolfson's three-decade push for the legalization of same-sex marriage, dating back to his time as a student at Harvard Law School. "I've never been so happy to be with an outfit that's going out of business," Biden said.
The vice president is considering a third bid for the Democratic presidential nomination and would enter the race facing another candidate who has strong support in the lesbian, gay, bisexual and transgender community: former Secretary of State Hillary Clinton who, despite being slower to endorse same-sex marriage, has a strong advantage. But Biden didn't mention his political future in his uncharacteristically brief speech, which lasted about 15 minutes, and instead focused on listing his gay rights bona fides from the past.
Biden said he "never had any problem" supporting same-sex marriage and then quickly corrected himself: "I had some political problems" but never any problems with his boss, the president.
Biden famously "got out a little bit over his skis," as Obama later said, in voicing his support for same-sex marriage before his boss had done the same. With his signature candor, the vice president said in a May 2012 interview on NBC"s "Meet the Press" that he was "absolutely comfortable" with men marrying men and women marrying women with the same rights as heterosexual couples. The White House scrambled to respond and, within a few days, Obama, too, said that he supported same-sex marriage.
During his time on the Senate Judiciary Committee, Biden helped stop the 1987 confirmation of Robert Bork to the Supreme Court. President Ronald Reagan ultimately nominated Anthony Kennedy to the same seat, and Kennedy was the decisive vote in last month's ruling, writing the majority decision.
"In my view the court's decision was inevitable because of you," gay-marriage advocates, and because of the Constitution, Biden said Thursday. "Your courageous efforts not only set all of you free, but you freed millions of straight women and men."
The next frontier on gay rights is employee nondiscrimination and on that, too, Biden said, the country will quickly come to see that the expansion of protections for LGBT people is necessary. "We have to raise the issue up. We have to expose the darkness to justice," he said.
"Justice can never be permanently repressed," he later adding in closing. "It must be set free. Now shine a new light."
Biden was introduced by Wolfson, who was a Senate intern for him in 1976, and for whom the vice president joked he takes "full credit." Wolfson said his "heart swelled with pride when the vice president announced his support for the freedom to marry."
Biden "certainly played an important if perhaps accidental role in getting the White House to that very important moment in this long crusade," said Richard Socarides, who worked on gay rights issues in Bill Clinton's White House and was among the several hundred attendees at the event.
"Hillary Clinton has a lot of support in the gay community. And Joe Biden has a lot of fans in the gay community," added Socarides, who hosted a Hillary Clinton fundraiser this spring. "But I don't think he's going to make anybody make that choice" to go for Biden over Clinton based on his record on gay rights. 
Before it's here, it's on the Bloomberg Terminal.
LEARN MORE