Chris Christie Pushes Tough-Talking Image With Ads in New Hampshire
A $500,000 buy targets viewers in New Hampshire.
by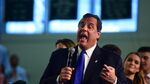 New Jersey Governor Chris Christie is taking out his first television ads in New Hampshire as he targets the state with the first primary to build momentum in a crowded Republican field.
The $500,000 ad buy, produced by Strategic Media Partners, will air over four weeks across broadcast channels in Boston and Manchester, as well as cable, radio and digital across the Granite State, said Samantha Smith, a spokeswoman for Christie.
Footage was taken from Christie's June 30 presidential announcement in his hometown of Livingston, New Jersey. The two-term governor is pushing his tough-talking image as he fights for one of the 10 slots at the first Republican primary debate in August. He's currently near the bottom of the list of those who will make the cutoff, which will be based on the candidates' national poll rankings.
"If we're going to lead we have to stop worrying about being loved and start caring about being respected again," Christie says in the 30-second spot. "I'm not looking to be the most popular guy who looks in your eyes every day and tries to figure out what you want to hear; say it and turn around and do something else."
Christie is betting that New Hampshire holds the key to jump-starting an electoral effort that hasn't ignited the same kind of popularity that four years ago prompted business and political leaders to urge him to enter the race. He declined in 2012, saying he wasn't ready.

Read more about the wide Republican field angling for the 10 available spots in the upcoming debates.
Before it's here, it's on the Bloomberg Terminal.
LEARN MORE