California Governor's Fiscal Adviser Opposes $11 Minimum Wage
James Nash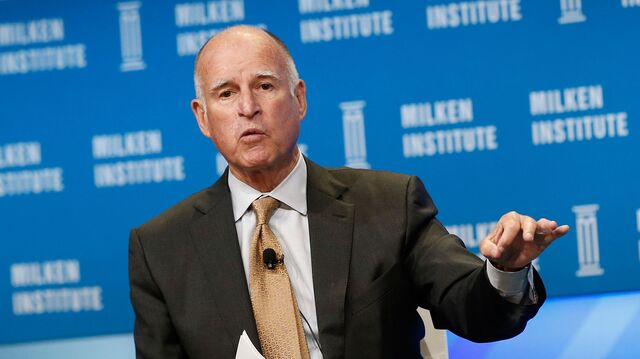 California Governor Jerry Brown's top fiscal adviser opposes a bill raising the state's minimum wage to $11 next year, which would be the nation's top rate, saying it would stunt the growth of the world's eighth-largest economy.
Raising the wage floor $1 above the level that Brown approved in 2013 would cost the state almost $400 million this fiscal year in higher wages paid to in-home health care workers, seasonal park employees and other state staff making minimum wage, according to an analysis by Brown's Finance Department.
Brown, a 77-year-old Democrat, in 2013 cited "moral responsibility" in raising the lowest wage to $10 effective in 2016. Yet his fiscal advisers now are taking a position identical to the California Chamber of Commerce's, and opposed to those of unions that backed Brown's 2010 and 2014 campaigns.
"The Department of Finance is opposed to this bill because it results in significant, unbudgeted costs to the General Fund," wrote budget program manager Kristin Shelton.
She said the proposed minimum wage would have a negative impact on California's economy, though losses from higher production costs to businesses would be partially offset from additional spending by minimum wage workers.
The Finance Department's opposition was reported earlier by the Sacramento Business Journal.
Hardworking Employees
The bill would raise the state's minimum wage to $11 an hour in 2016 and $13 in 2017. Its author, Senator Mark Leno, said it would "lift up poor Californians and reward all hardworking employees with the resources they need to put food on the table for their families," according to a statement on his website.
Finance Department spokesman H.D. Palmer said the analysis speaks for itself. Evan Westrup, a Brown spokesman, did not respond to an e-mail seeking comment on whether the governor agrees with his finance advisers.
The state Senate approved the higher wage 23-15, with Democrats supporting and Republicans opposed. The bill passed the Assembly's Labor and Employment committee 5-2 and now heads to the entire chamber, which like the Senate is controlled by Democrats.
Leno spokeswoman Ali Bay did not return a call seeking comment.
Leno's bill, if signed by Brown, would place California alongside 15 states that match minimum-wage increases with inflation. Massachusetts is set to raise its per-hour wage to $11 in 2018, according to the National Employment Law Project.
The U.S. minimum wage has been $7.25 an hour since 2009, with three increases over the past 30 years. States and cities have raised the lowest wage on their own, with 29 states adopting higher rates than the federal level, according to the National Employment Law Project.
For related News and Information Los Angeles Vote $15 Minimum Wage May Spread to Other Cities
Before it's here, it's on the Bloomberg Terminal.
LEARN MORE