(Some) Republicans Get Religion on Climate
The party's anti-regulation wing finds ways to call for change.
by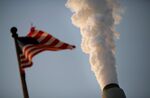 Jerry Taylor talks with passion about how climate change should be a conservative issue. While environmentalists on the left focus on controlling carbon emissions, Taylor argues the right should be looking at climate change the way it looks at financial risk. Leading climate experts estimate there's a 10 percent chance of catastrophic warming because of climate change in this century. Speaking to an audience at the American Enterprise Institute in June, Taylor put the issue this way: If you knew there was a 10 percent chance that we'll have another Great Depression, would you keep investing in equities? "Heck no," Taylor said. "You would very well hedge."
Last year, Taylor left the libertarian Cato Institute after 23 years to found the Niskanen Center, a nonprofit that works to develop what it characterizes as practical and politically feasible policies on issues such as civil liberties, defense, and immigration. He's attracted prominent Republicans to his advisory board, including anti-tax campaigner Grover Norquist and George Shultz, Ronald Reagan's secretary of state.
His timing may be good. Two-thirds of Americans say they think the world would benefit from reducing carbon emissions, according to a March poll by Yale and George Mason University. "The first collapse is the tendency on the right to say that climate change is not a problem," says Eli Lehrer, president and co-founder of R Street Institute, a think tank in Washington that promotes policies encouraging free enterprise. "The equally strong collapse is the tendency on the left to say that only our way of solving it is workable."
Democratic members of Congress have expressed interest in policies that move beyond strengthening the U.S. Environmental Protection Agency. At the AEI event, two Democratic senators, Sheldon Whitehouse of Rhode Island and Brian Schatz of Hawaii, unveiled a carbon tax plan, which would put a tax on greenhouse gas polluters, raising $2 trillion over 10 years and leading to emissions cuts to 40 percent below 2005 levels by 2025.
In June, Jay Faison, an electronics mogul from Charlotte, announced he was committing $165 million to start the ClearPath Foundation, a nonprofit that will provide climate research and develop business-friendly solutions. The foundation's advisory board includes Ronald Prinn, director of the MIT Center for Global Change Science, and Jeremy Oppenheim, a McKinsey sustainability executive who's also senior adviser at the New Climate Economy, an initiative run jointly by nine international research centers and chaired by former Mexican President Felipe Calderón. An additional $10 million will go to fund Republicans who endorse clean energy policies.
So far this year, Faison has given $800,000, including $500,000 to a super PAC supporting Republican Senator Kelly Ayotte of New Hampshire. He's also given $50,000 to Right to Rise, the super PAC supporting Jeb Bush's presidential campaign, and $100,000 to the super PAC backing Lindsey Graham, the South Carolina senator running for president. Faison describes his criteria for making "very meaningful" contributions this way: "We are looking for strong Republican leaders who are forward-thinking, recognize the risk of climate change, and who believe America can accelerate its inevitable transition to clean energy without harming the economy."
Yet Republican lawmakers remain cautious about embracing climate policy. "In these congressional districts on the House side, which are strongly red, there is a great fear of becoming the next Bob Inglis," Taylor says. Inglis, a Republican congressman from South Carolina, lost his 2010 reelection bid in part because he told an interviewer that he believed climate change was caused by human activity—a position that put him at odds with many of the deeply conservative Republicans in his base. He's since become an advocate for developing conservative policy proposals for managing climate change and heads the Energy and Enterprise Initiative at George Mason University. He says it's up to conservatives to push their fellow Republicans. It is, he argues, an issue where "a voice or two could turn the entire conference."
Before it's here, it's on the Bloomberg Terminal.
LEARN MORE